Posted on
Fri, Mar 23, 2012 : 1:13 p.m.
Faith-based groups protest Obama's contraception mandate in Ann Arbor
By Ryan J. Stanton
Hundreds of pro-life advocates gathered in front of the federal building in downtown Ann Arbor Friday afternoon to protest the Obama administration's contraception mandate.
Holding up signs reading "Stand Up For Religious Freedom," members of various faith groups and congregations listened to the Rev. Bill Ashbaugh of St. Thomas the Apostle Church.
"What is this all about? An unwarranted government definition of religion," Ashbaugh told the crowd, receiving a cheering response. "We are deeply concerned about this new definition of who we are as a people of faith and what constitutes a ministry."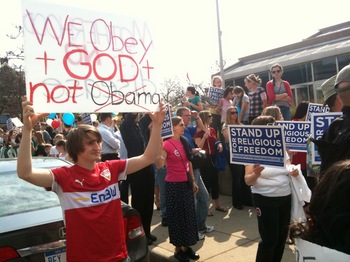 Ryan J. Stanton | AnnArbor.com
Ashbaugh clarified what the debate isn't about. He said it's not about access to contraception, which he called ubiquitous and inexpensive, or wanting to ban contraception.
"This is not about the church wanting to force anybody to do anything," he said, reading from a statement recently released by the administrative committee of the U.S. Conference of Catholic Bishops. "It is instead about the federal government forcing the church — consisting of its faithful and all but a few of its institutions — to act against church teaching."
The Stand up for Religious Rights rally in Ann Arbor was held in conjunction with rallies at the same time in at least 118 other cities throughout the country, according to Bob Horning, a local spokesman for the cause.
Horning said the rally was intended to voice opposition to the federal mandate handed down by the Obama administration in January, forcing institutions to cover what Horning called "morally objectionable items" in their health care.
Again reading from the same statement, Ashbaugh said it's not a matter of opposition to universal health care, which has been a concern of the Bishops' Conference since 1919.
"This is not a fight we wanted or asked for, but one forced upon us by government on its own timing," he said, continuing to read the statement. "Finally, this is not a Republican or Democratic or conservative or liberal issue. It is an American issue."
Among those in attendance was Mark Harburg, a volunteer for Right to Life of Michigan. He said there were others from churches like Christ the King Catholic Church in Ann Arbor and various schools, including Spiritus Sanctus Academies and Father Gabriel Richard.
Ryan J. Stanton | AnnArbor.com
Also represented were Dominican Sisters of Mary, Mother of the Eucharist, Knox Presbyterian Church, University of Michigan Students For Life and Washtenaw County Right to Life.
"We're here standing for religious freedom against Obama's HHS mandate," Harburg said. "It's really against giving away free contraceptives and abortion. That's against our religion and our religious freedom, because as Catholics we believe that is murdering and killing a child."
The protestors decried what they described as a mandate requiring employer health plans to include free contraceptives, sterilizations and abortion-inducing drugs, regardless of any moral or religious objections. They said Catholic and other religious universities and hospitals would be forced by the government to provide services that directly contradict church teaching.
The Obama administration is offering to expand the number of faith-based groups that can be exempt from the contraception mandate, and proposing that third-party companies instead administer coverage for self-insured faith-based groups at no cost.
Ryan J. Stanton covers government and politics for AnnArbor.com. Reach him at ryanstanton@annarbor.com or 734-623-2529. You also can follow him on Twitter or subscribe to AnnArbor.com's email newsletters.