Posted on
Sun, Mar 28, 2010 : 3:45 p.m.
FBI raids in Washtenaw, Lenawee counties tied to Michigan militia group
By Lee Higgins
Updated story: 9 Hutaree members face federal charges of conspiracy, attempting to use weapons of mass destruction
The FBI conducted raids Saturday night in Washtenaw County and Lenawee County in an investigation involving members of Hutaree, a Christian-oriented militia group based in Lenawee County, AnnArbor.com has learned.
The nature of those raids has not been made public. FBI Special Agent Jason Pack, who is based in Washington, D.C., said he did not know how many people were taken into custody. Gina Balaya, a spokeswoman for the U.S. Attorney's Office in Detroit, could not be reached for comment today.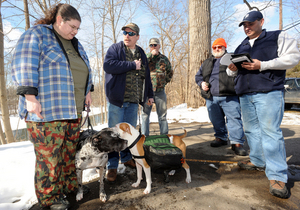 "I can confirm that there is ongoing law enforcement activity in the Ann Arbor general area," Pack said in a written statement. "Since the federal warrants are under court ordered seal, legally we cannot provide further comment at this time."
Local Michigan militia member Jimmy Schiel said he was told five people were arrested - including one known member of Hutaree. Schiel said the five were reportedly arrested during a raid at a service in the Ann Arbor area for a Hutaree member who died recently. Schiel was told about eight Hutaree members were present. He didn't know who organized the service. Schiel, who said he was invited but did not attend, spoke to a Hutaree member who was there, he said. The member told him people were questioned about guns.
Hutaree members couldn't be reached for comment today. As AnnArbor.com reported last week, several Hutaree members were recently involved in searches in Bridgewater Township after two residents went missing in separate incidents. Bridgewater Township Supervisor Jolea Mull, who is a Republican, had requested help from local militia members to assist in those searches. Schiel worked closely with Hutaree members on both occasions.
Matt Savino, a member of the Lenawee County Volunteer Militia, said he met with a group of Hutaree members about 11 p.m. Saturday outside an Adrian convenience store. Savino said a Hutaree member had called him and said "there's an emergency" and he needed to talk, but didn't specify what it was about.
Savino and two other members from his unit met with the man, who was accompanied by three other men, two women and a young child. The man told Savino federal law enforcement agents had raided his Lenawee County home and had already taken five Hutaree members into custody in the Ann Arbor area, Savino said. He asked Savino for help.
"I asked why are they getting detained and why are they raiding your house and they had no answer," Savino said.
Savino said he encouraged the man to turn himself in. The man said, "That's not an option," and the group left, Savino said.
Hutaree claims to have about 30 members, including several who live Washtenaw County. The group has its own pastor and a leader, members said. Members are known to train with AR-15s.
The Southeast Michigan Volunteer Militia has not been targeted in any raids, spokesman Mike Lackomar said. The group posted a message on its website today saying, "Neither michiganmilitia.com nor the SMVM have been 'raided' by the FBI. We do nothing illegal."
The FBI set up a command post at the Washtenaw County Sheriff's Department late last week. Sheriff's spokesman Derrick Jackson said the department was not involved in the operation.
The FBI conducted multiple raids Saturday and into Sunday in Adrian, and one of them centered on a property where known members of a militia live, the Associated Press reported.
Several other raids took place around the same time in Ohio and Indiana, although it's unclear whether they were related. The Ohio raids took place in Sandusky and Huron, and the Indiana raid occurred in Hammond.
The Department of Homeland Security and the Joint Terrorism Task Force are also involved in the raids, the AP reported.
Here are links to news coverage of FBI raids in southeast Michigan and elsewhere Saturday night:
Lee Higgins covers crime and courts for AnnArbor.com. He can be reached at leehiggins@annarbor.com or 734-623-2527.