Posted on
Thu, Jun 17, 2010 : 6:05 a.m.
FBI investigates former Ann Arbor painter for links to Iranian government
By Lee Higgins
The FBI searched a storage unit and safe deposit box in the Ann Arbor area as agents investigate whether a man who planned to kill a California radio broadcaster was working as an agent for the Iranian government, federal court records show.
Mohammad Reza Sadeghnia, 43, formerly of Ann Arbor, is scheduled to be released next month from the Men's Central Jail at the Los Angeles County Sheriff's Department after serving a year for solicitation to commit murder, said his attorney, Michael Zimbert.
Sadeghnia pleaded guilty in Los Angeles Superior Court, admitting he solicited a man to kill Djamshid Sharmahd, who runs radio and television programming for Tondar in Los Angeles that's critical of the Islamic Republic of Iran.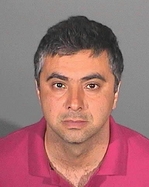 According to the Wall Street Journal, the Iranian government claims Tondar is a terrorist organization responsible for the Shiraz bombing at a mosque in southern Iran that killed 14 people on April 12, 2008. The Journal reported Tondar claimed responsibility for the attack, but said the target was a military installation, not a mosque, and 24 military members were killed, not civilians.
Iman Afar, a spokesman for Tondar in Los Angeles, told AnnArbor.com on Wednesday that Sadeghnia's scheduled release from jail has Afar concerned for his safety. Afar said Tondar is the "number one" enemy of the Islamic Republic, and its members are regularly threatened. He denies Tondar is a terrorist group.
"Even the State Department rejected that," he said. "We are absolutely clean."
Zimbert wasn't aware search warrants were being executed in the Ann Arbor area, and said he hasn't been told any additional charges may be filed against his client. Zimbert said he has no reason to believe Sadeghnia is working for the Iranian government and suggests plans for the hit were little more than Sadeghnia running his mouth while he was drunk.
"This really got blown so out of proportion," Zimbert said. "The facts of this case don't suggest that (Sadeghnia) is an operative at any level."
Zimbert said Sadeghnia will be on probation for several years after being released from jail.
Sadeghnia was arrested on July 28, 2009, at a hotel near the Los Angeles International Airport, about 30 miles from Glendora - a city of 50,000 where his intended target lived, Glendora police said. When Sadeghnia was arrested, he had thousands of dollars in cash and an Iranian passport, said Glendora police Sgt. Scott Strong.
In California, Sadeghnia had reconnected with a man he knew from the Middle East and spent two weeks discussing plans for the hit, Strong said. They met at residences and public meeting places in Los Angeles and Orange County, Strong said. Sadeghnia went as far as renting several cars to commit the crime, Strong said.
"There were various plans that were discussed," Strong said. "Everything from shooting him to running him over."
The man Sadeghnia solicited for the hit had a minor criminal record and rejected the $27,000 offer, Strong said.
"He truly didn't want to get involved in it," Strong said.
According to Strong, Sadeghnia cooperated with investigators and didn't lie about his identity or have multiple identifications. Investigators believe Sadeghnia was going to purchase a plane ticket to flee after the hit, Strong said.
Glendora police contacted the FBI based on the politically motivated nature of the crime, Strong said. Zimbert confirmed Sadeghnia has been interviewed by FBI agents.
The investigation has led agents to Ann Arbor, where Sadeghnia lived for years, working as a painter. He owned M.S. Painting, registering the business with Washtenaw County in August 2004, records show.
According to Ann Arbor police records, Sadeghnia was operating the company as recently as August 2008.
Sadeghnia, who Glendora police say is a U.S. citizen, grew up in Iran. He is single with no children. Sadeghnia has family members in the Ann Arbor area who declined to comment for this article.
On Dec. 18, FBI agents executed a search warrant at a storage unit on West Liberty Road near the Ann Arbor and Scio Township border, records show. Agents seized four boxes of miscellaneous documents and items, a bag of cassette tapes, business cards and a notepad.
On May 26, agents executed a search warrant on a safe deposit box at a South Main Street bank in Ann Arbor, but nothing was seized, records show.
In executing the warrants, the FBI was seeking evidence Sadeghnia was acting as an unregistered agent of a foreign government, traveled over state lines with the intent that a murder be committed for money or that he conspired to commit those offenses, records show.
Agents were seeking evidence of disguises, unexplained wealth and whether Sadeghnia engaged in techniques to avoid detection by counterintelligence agents as he communicated with other agents, records show.
FBI Special Agent Sandra Berchtold, a bureau spokeswoman in Detroit, said she could not provide additional details because some documents in the case are sealed. Vickie Hampton-Franklin, an FBI spokeswoman in Los Angeles, said she could not comment for the same reason.
Records show Sadeghnia filed a complaint with Ann Arbor police on Aug. 23, 2008, alleging a homeless man he fired for showing up to work drunk was threatening him. Sadeghnia alleged the man took eleven $100 bills from the glove compartment of his work van and some timesheets, a police report says. The man wanted to get paid, but Sadeghnia told him he would have to wait a couple days.
Sadeghnia complained of receiving threatening voicemails from the man, so officers asked Sadeghnia put the messages on a tape, the report says. According to the report, Sadeghnia never followed up with detectives.
When Sadeghnia filed the report, he provided information about himself to police, including his date of birth and the address of his South Division Street apartment.
Sadeghnia told officers he feared the homeless man, who knew where he lived, might harm him, the report says.
According to the report, police asked whether Sadeghnia would like an officer to accompany him home, but Sadeghnia declined the offer.
Lee Higgins covers crime and courts for AnnArbor.com. He can be reached by phone at (734) 623-2527 and email at leehiggins@annarbor.com.