Posted on
Tue, Apr 23, 2013 : 2:31 p.m.
Federal lawsuit filed against city of Ann Arbor, police chief for ticketing Planned Parenthood protester
By Amy Biolchini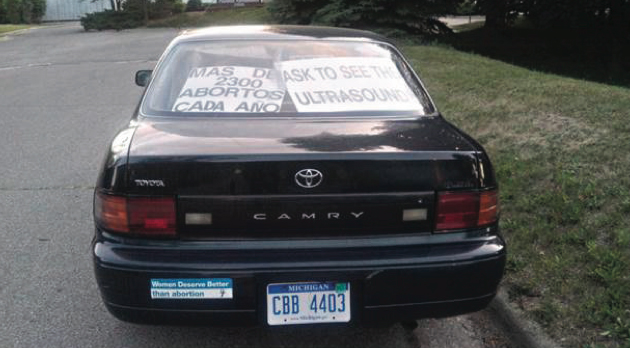 Courtesy of the American Freedom Law Center
The
American Freedom Law Center
filed a federal civil rights lawsuit Tuesday against the City of
Ann Arbor
and police chief
John Seto
in what the organization claims is a violation of a
Planned Parenthood
protester's First Amendment rights to free speech.
The national non-profit center filed the lawsuit on behalf of Paul Dobrowolski of Saline, a pro-life advocate who has displayed anti-abortion signs in his vehicle that he parked on a public street outside of the Planned Parenthood Ann Arbor Health Center on Professional Drive for more than one year.
The City of Ann Arbor has ticketed Dobrowolski on May 29 and June 4 last year for displaying signs in his vehicle, and on two occasions, he has paid $25 fines to the city.
The lawsuit was filed in the U.S. District Court for the Eastern District of Michigan. The City of Ann Arbor will have 21 days to respond to the suit after they are served.
"We have not been served with the lawsuit at this time. I cannot comment on the lawsuit until we are served," said City Attorney Stephen Postema in an email.
A Judeo-Christian national non-profit organization, the American Freedom Law Center works to protect the free speech rights of those who protest abortion.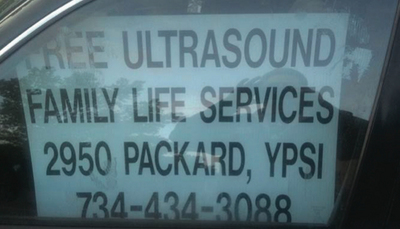 Courtesy of the American Freedom Law Center
Language on Dobrowolski's signs included "Ask to see the Ultrasound," "Abortion Hurts Women" and "Free Ultrasound, Family Life Services, 2950 Packard, YPSI, 734-434-3088."
Ann Arbor's City Code states that a person is not allowed to park a vehicle on a city roadway for the principal purpose of displaying advertising.
Specifically, Dobrowolski's "Free Ultrasound" sign was considered to be advertising by the Ann Arbor Police Department and was the reason Dobrowolski was ticketed.
The lawsuit claims that Dobrowolski's signs are all political speech and protected by his First Amendment rights. It also seeks to challenge the City's code.
Dobrowolski deferred comment to his lawyer in the case, Robert Muise, who also is the co-founder of AFLC.
During a hearing in which Dobrowolski contested the June 4 ticket, an AAPD employee testified that she was directed to ticket Dobrowolski by her supervisor after a complaint from a business in the area, Muise said.
Dobrowolski also was notified on May 22, 25 and 31 of last year that he had 48 hours to move his vehicle or it would be considered abandoned and impounded. As a part of his protest outside of the Planned Parenthood facility in Ann Arbor, he also distributes pro-life literature and holds signs.
"The City's content-based restriction on our client's pro-life, political speech cannot withstand constitutional scrutiny. Indeed, it is evident that the City of Ann Arbor is targeting our client's speech because it is pro-life and likely harming Planned Parenthood's abortion business," according to a statement by Muise.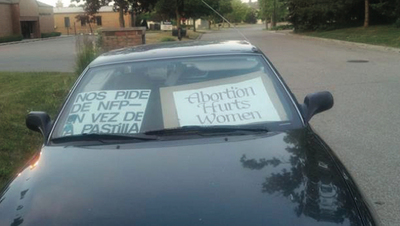 Courtesy of the American Freedom Law Center
"The City is thereby using its speech restriction to silence pro-life advocates who are peacefully displaying signs for the 'principal purpose' of saving the lives of unborn children. The Constitution forbids such restrictions."
Planned Parenthood spokeswoman Desiree Cooper said there are a number of health centers that have regular protesters.
"Our feeling … is this is the United States of America and people have the right to free speech. We never engage with protesters, nor try to move them or try to abridge their right to free speech," Cooper said.
Cooper said there have been no issues with threatening behavior from protesters and that typically they follow local ordinances for the distance they are required to stand from the Planned Parenthood facility. Typically, it's the same protesters that appear outside of local Planned Parenthood health centers each time, Cooper said.
"We ask that (protesters) respect the rights of our patients," Cooper said. "People can say what they want to say, and that's a fact of life."
Amy Biolchini covers Washtenaw County, health and environmental issues for AnnArbor.com. Reach her at (734) 623-2552, amybiolchini@annarbor.com or on Twitter.