Posted on
Mon, Feb 13, 2012 : 6:45 p.m.
4th skunk with rabies found in 6 months on Ann Arbor's west side
By Danny Shaw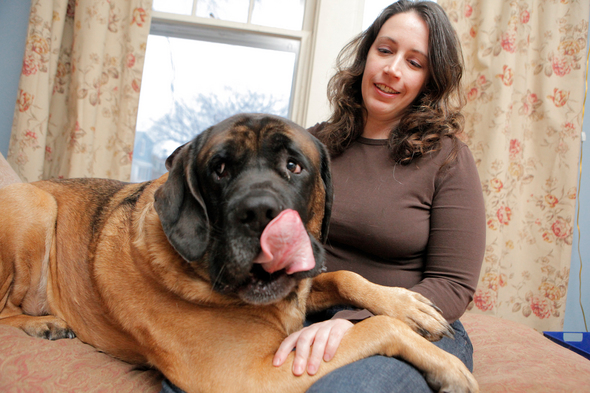 Chris Asadian | AnnArbor.com
A dog's skirmish with a skunk last week on Ann Arbor's west side took a serious turn Monday when the pet's owners learned that the wild animal had rabies.
The skunk tested positive for the fatal virus, confirmed Susan Ringler-Cerniglia, the public information officer for the Washtenaw County Public Health Department.
The incident on Doty marked the fourth confirmed report of a rabid skunk since September on the west side near the Miller Nature Area.
That concentration of infected skunks in one area is something they will be monitoring.
"We have a little bit of concern about it in that area," Ringler-Cerniglia said. "We are going to check in at the state-level to see what we can do to look into the animal population in that area."
Ringler-Cerniglia said she recommends anyone who suspects an animal of having rabies to immediately contact animal control and they will investigate the situation.
Courage, a red-gold English Mastiff, was enticed by what his owner, Catherine Shaffer, said were two skunks "acting strangely" near his yard.
The skunks sprayed the dog, but wouldn't leave the edge of the yard, prompting Courage to try to get through the fence and reach them.
Shaffer said he had killed one of the skunks, but the other, larger one got away.
She said rabies wasn't something she was worried about, considering Courage is up-to-date on his vaccines, and received a booster shot.
"I felt pretty sure he's OK," Shaffer said.
However, Courage had cut his mouth on the fence during the scuffle.
Even though she didn't have direct exposure with the skunk, Shaffer is going through the rabies vaccination process since she did handle her dog's mouth after the incident.
"I'm going to go ahead and get the series of shots," she said. "It really is out of an abundance of caution."
Fewer than 10 human rabies fatalities occur in the United States per year, according to national data. However, as many as 40,000 Americans receive the vaccine each year after contact with animals suspected of being rabid.
The viral disease affects the central nervous system and is nearly always fatal.
Shaffer reported the incident after learning about three skunks in her area having rabies at the end of 2011.
"I think I'm a little more worried now," Shaffer said. "I hadn't been thinking about rabies all that much, but now I know there's animals right here with it."
Dr. Cathy Theisen, a local veterinarian, said there are signs of rabies all pet owners should be aware of in case their pets come into contact with an animal acting strangely.
"A normal, healthy skunk should be afraid of you and your pet and only come out at night," she said. "If you see any animal acting strange - it walks around acting drunk, seems not all there - you should get you and your pets away and call animal control immediately."
Theisen said the disease can pass through the saliva of an infected animal, even after death, so careful handling is important.
She also recommended regular rabies vaccines for pets.
Ringler-Cerniglia said the skunk is the first animal in Washtenaw County to test positive for rabies in 2012.
In 2011, six animals were confirmed to have rabies in the county. That's the 2nd-highest total since 2004, with the highest coming in 2007. In that year, 11 cases of rabies were identified - and all of those involved bats.
See Washtenaw County rabies information.