Posted on
Sat, Jan 28, 2012 : 5:59 a.m.
Five chairs: Lessons learned from Denard Robinson and Kelvin Grady
By Lucy Ann Lance
Five chairs were lined up in a row facing the stage at the empty table reserved for the judges at Pioneer High School's Future Stars 2012. I had arrived early (not one of my traits) to select my seat and make sure I had perfect line of sight of the district-wide high school acts that would be vying for the title of
Future Stars
. I take my judging seriously.
There were two seats to my left and two seats to my right, giving me the perfect balance to connect with all of the judges during the show. I was looking forward to their arrival to see who they would be. This event, spearheaded by Pioneer High School Theatre Guild producer Susan Hurwitz and technical director Mysti Plummer, packs in a sold-out crowd of 5,000 attendees every year. This is no ordinary high school talent show, but more akin to a full-scale theatrical Broadway production, with the talent to match.
With my back to the crowd I first heard the rumble of whoop-filled cheers erupting behind me. By then one of the other judges had arrived, Steve DeBruyn, associate artistic director at Dexter's Encore Musical Theatre Company, which is known for its Broadway quality productions. He was sitting two chairs to my right. As the crowd decibel continued to rise to a fevered pitch, I turned around to see what had caught their attention and I, too, was starstruck. Michigan quarterback Denard Robinson and wide receiver Kelvin Grady began pulling out the two chairs to my left to sit down. I leaned over to introduce myself, as the crowd continued to scream, and I said to Denard, "Stand up and wave. They love you." They both turned around and greeted the crowd, which caused the audience to cheer even louder in return.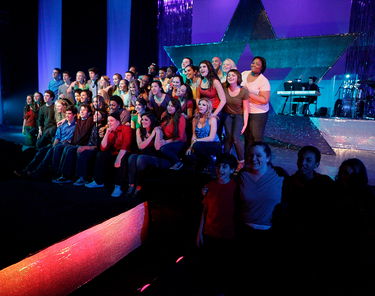 A tap on the shoulder was about to put a crimp in my seating plan. One of the students assigned to assist the judges was asking me if I would move down one chair so that the fifth judge, who had just arrived, could sit in the middle. What? Nooooo. I didn't care who that judge was, I wasn't budging. Denard and Kelvin were all mine. As I ungraciously ignored the request, the poor student (who had asked me to move repeatedly, getting an A+ for effort) finally trotted away and the other judge took her seat to my right.
I now had to confront my boorish behavior and introduce myself to the new judge. Delaying that sticky situation, I turned to Denard and Kelvin and fell in love with two of the loveliest people I have ever met.
As comfortable as Denard is on the Michigan football field, he is equally at ease in front of a screaming crowd in an auditorium, talking one-on-one with his fans, or making this 50-year-old woman feel like a freshman at Michigan again. Denard wears his charisma and star-quality well, because he is oblivious to both. Just as he assesses the play on the field, waiting to make sure his receiver is in the perfect spot before throwing the ball, Denard listens carefully to people he's talking with, asking them questions, and making them feel special.
I made a quick phone call to my nephew, Jacob, who became a Michigan fan at age 4 when his dad took him to his first game. Now in college, he consumes Michigan football stats, player bios, and news as fast as Denard runs. I quickly whispered into the phone, "Denard and Kelvin are sitting next to me. What should I say?" He rattled off a number of football-related topics, and then he said something intriguing. "Ask Kelvin about Walmart." Walmart?
Kelvin Grady hails from Grand Rapids and is enrolled in the U-M Master of Social Work Program, concentrating in community organization and children and families. Through the U-M, he was able to intern in the manager's program at Walmart. He told me it was a great experience that opened career options for him. It impressed me that this young man wasn't only thinking about a career in the NFL.
Turning to my right, it was time to meet that fifth judge. As equally starstruck as I was meeting two members of the Michigan football team, getting to know Cynthia Kortman Westphal turned out to be an amazing experience. It started with me recognizing that last name. Her husband is Kirk Westphal, who serves on the City of Ann Arbor's Planning and Environmental Commissions and has made a name for himself in urban planning and producing award-winning videos. The couple, who have two children and make their home in Ann Arbor, met in New York where Cynthia was a conductor on numerous Broadway productions. She was an original company member of The Lion King, serving as associate music director, conductor, and keyboard player for seven years. Cynthia has also toured as a pianist with Andrea Bocelli on two U.S. tours. She is currently assistant professor of Musical Theatre at the University of Michigan, and clearly, she and Steve DeBruyne were the only judges amongst us who had the experience to judge talent.
And there they sat, on the far edge of the judging platform with a poor view of the stage. I wanted to slither down my treasured seat and disappear. To her credit, Cynthia is a much nicer person than I, as she never even mentioned the seating arrangement. She is wildly entertaining with a real zest for life.
Our role was to whittle down the contestants to five, and any one of the 19 acts could have been in that final pool. They were that good. We ended up selecting six (we couldn't leave out Joey Hathaway, who performed a drum solo from Stomp that started out with a clever variety of kitchen utensils and jars as instruments.) Next, it was the audience's turn to vote by clapping their approval, which was logged on a decibel measurement device. The ultimate winner was Tionna Griffin, whose performance of California King Bed stirred the audience into a tornadic frenzy of support for her.
While we had been hashing out the list of finalists in a practice room behind the stage, I asked Cynthia if she would tap out a song or two on the piano in the room. She tried to laugh it off, but I insisted and she finally obliged. She is a brilliant pianist and effortlessly played a few strands of various showtunes. That was enough to capture Denard's attention and he sat down with her to watch, finally asking if she would teach him how to play the piano. She responded by saying, "Only if you teach me how to play football, Denard."
That special magnetism that Denard has, whether he is making a touchdown, or sharing his victories with his fans by climbing into the crowd after a game, or simply taking interest in someone else's talent, is a unique ability. The connection he makes with the people around him never seems to be for his own glory, but rather to lift up others and give them center stage.
Perhaps that's why, when earlier Denard saw my disappointment over being asked to vacate my chair, he leaned over and said, "That's okay, I'll move down with you." On the field or off, Denard Robinson is the kind of person you will always want on your team.
***
Lucy Ann Lance co-owns Lance & Erskine Communications, which produces "The Lucy Ann Lance Business Insider" (M-F, 8 a.m.-11 a.m.) and "The Lucy Ann Lance Show" (Saturdays, 9 a.m.-12 p.m.) on 1290 WLBY. The programs are live streamed at www.1290WLBY.com, and podcast on www.lucyannlance.com.