Posted on
Mon, Mar 19, 2012 : 5:52 p.m.
Flooded Ann Arbor apartments will be fully repaired in 3-4 weeks
By Danny Shaw
Note: This article as been updated to reflect McKinley Inc. attempted to contact each displaced resident.
Photo courtesy of Ainsley Schlinghoff
The seven families living in
Park Place Apartments
and
displaced by flooding
there during last week's storm can return to their homes in three to four weeks, said
Albert Berriz
, CEO of
McKinley Inc
.
McKinley employees have attempted to contact each family to offer another unit at other McKinley properties, said Berriz. Two families accepted the offer, and the remaining five have been contacted to make arrangements.
"Everybody was given a chance to relocate to a different community right away," Berriz said, adding if the families would like to return to their previous unit, they will be able to do so.
"Anybody who wants to do that is welcomed to. We are under construction already. The construction team is in full force."
Berriz said 28 families living in a McKinley property were affected in some way, but only the seven families required relocation.
About four feet of water flooded Park Place, destroying property and flooding the parking lot. A dog was found dead inside one of the units during the flooding.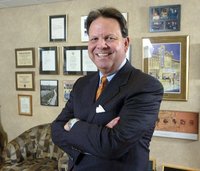 AnnArbor.com file photo
McKinley Inc. established the Park Place Flood Recovery Fund to accept donations for the families affected by the flooding. Berriz said the fund has accepted "thousands of dollars already."
"We want to be able to give the flood victims a check," he said. "That way they can make up for any lost possessions. Not all of them had renters insurance."
Berriz said they will accept donations for as long as they come in, adding, "as long as we get them, we'll pass the money right back to the families that were affected. We've had great success so far."
A checking account has been opened in the fund's name and donations can be dropped off at the Park Place/Hill Crest Apartments main office at 1980 Pauline Boulevard, said Berriz.
For more information on the Park Place Flood Recovery Fund, call the Park Place/Hill Crest Apartments main office at 734-761-1897.