Posted on
Sat, Mar 10, 2012 : 4:16 p.m.
Washtenaw County sees rise in flu activity at the end of generally mild season
By Cindy Heflin
Flu is on the rise in Washtenaw County this month, although overall it's been a mild influenza season, Washtenaw County health officials said.
Four people were hospitalized for influenza last week and at least one this week, said Laura Bauman, epidemiologist for the Washtenaw County Public Health Department. Twenty people were reported ill from the disease last week, she said.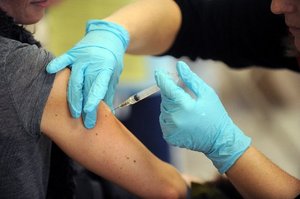 Lon Horwedel | AnnArbor.com
Three different strains of influenza, A/H3, A/H1N1, and B are circulating in Washtenaw County, health officials said.
The first influenza hospitalization this year was reported on Feb. 1.
Bauman said there has also recently been a spike in upper respiratory infections among children at local schools and child-care centers.
But Ann Arbor Public Schools have so far not been affected by the trend, said district spokeswoman Liz Margolis. "It's very much below what we normally see," she said. That's true for both flu and general upper-respiratory infections
At St. Joseph Mercy Hospital in Superior Township, the hospital's emergency room has seen a recent uptick in cases of upper respiratory infections but the hospital has not seen an increase in the number in flu cases, said hospital spokeswoman Lauren Jones.
University of Michigan Health System officials were not available for comment Friday afternoon.
Flu symptoms include:
Fever or feeling feverish/chills
Cough
Sore throat
Runny or stuffy nose
Muscle or body aches
Headaches
Fatigue
The best way to protect yourself from flu is to get a flu shot, and Bauman said it's not too late. "We don't how long it will go on," Bauman said. "It may be that this flu season lasts until April."
Frequent hand-washing and avoiding touching your eyes, nose and mouth can also help you avoid the flu and spreading it to others if you have it.
Contact Cindy Heflin at cindyheflin@annarbor.com or 734-623-2572 or follow her on Twitter.