Posted on
Sun, Feb 12, 2012 : 5:58 a.m.
'Nobody ever fell in love with science because of a quiz'
By Lisa Carolin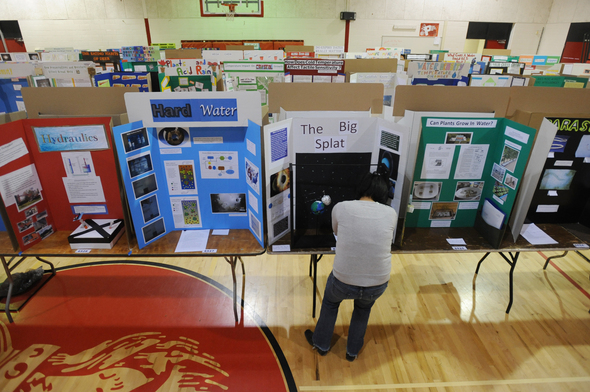 Melanie Maxwell I AnnArbor.com
If you visit Forsythe Middle School in Ann Arbor Sunday afternoon, you'll have the chance to see more than 300 projects on display as part of this year's school science fair.
That's enough to make it among the biggest - if not the biggest - science fairs in the state. It is a requirement for all sixth-graders and optional for seventh and eighth-graders.
Sixth-grader Michael Soluk's project answered the question, 'Does time fly when you're having fun?'
"No, time actually goes slower," said Michael. "I asked my subjects to do fun things like socializing, watching TV and playing video games, and they guessed that more time had gone by than actually had gone by."
Sixth-grader Lia Kahan's project answered the question, 'Do you get wetter standing still, walking, or running in the rain?'
"I used a sprinkler and moved sponges around the sprinkler to represent people," said Lia. "Then I squeezed the water out of the sponges and measured it and found you get the most wet standing still."
Isak Poulsen, also a sixth-grader at Forsythe, did a study on the difference between the mold on bread with chemical preservatives and bread without them.
His mom, Lea Monaghan, who helped organize this year's science fair, has enjoyed watching her son at work.
"It was a good learning experience for him to see the effects of an experiment that you don't plan on," she said.
"It surprised me to learn that dry bread left out lasts a really long time," observed Isak.
Forsythe Science teacher Dan Ezekiel has helped run the science fair for 25 years and thinks it's a great opportunity to get students involved with hands-on science.
"We started talking about the projects before Halloween and go step by step," he explained. "Science projects tie into the sixth-grade curriculum, which is called earth science. Students learn to use the inquiry process to find out how to make their questions testable."
Special education students and their teachers collaborated on a giant inflatable whale - one that's so big, tables for projects can fit inside.
Sixth-grader Eliana White asked the question, 'Do mood rings really depend on your mood?'
"I wanted to learn how mood rings work and change color and am using a Slinky with beads on it to represent molecules," she said.
Daniel Khain, also a sixth-grader, was inspired by the Dead Sea and the fact that people can sit or lie down on the water.
"I took a glass vase and put water and salt and a ball in it and timed how long it took the ball to touch the bottom of the vase," said Daniel. "The more salt or density, the longer it took."
Ezekial says that often when he meets working scientists, they tell him about their science project when they were a kid.
"Nobody ever fell in love with science because of a quiz," said Ezekial. "It was a project from which they tried to get data and shared with other people that inspired them."
That inspiration was part of his past, too.
"I did a science project when I was a seventh-grader at Slauson Middle School that was put in the Southeast Michigan Science Fair, where many of our students will have their projects shown," he said. "If I needed to, I could rewrite my report now because I learned what I did for it so thoroughly."
His students agree that it's a valuable experience.
"Working on a science project is much more interesting and hands on than sitting in class," said sixth-grader Daniel Khain. "I think you learn more because you try to learn more because you are more interested in what you are doing."
The Forsythe Science Fair open house for the public runs from noon-4 p.m. Sunday with an awards presentation at 2 p.m. Forsythe Middle School is located at 1655 Newport Road.