Posted on
Mon, Mar 26, 2012 : 6:30 p.m.
Fowl play: Turkey keeps watch over state police troopers in Brighton
By Kyle Feldscher
The Michigan State Police trooper could feel the eyes staring at him. The uneasy pressure of being watched simply wouldn't go away, even though nothing was in sight.
He turned around, and looked out the glass door of the Brighton post, thinking this feeling was for the birds. He was partly right.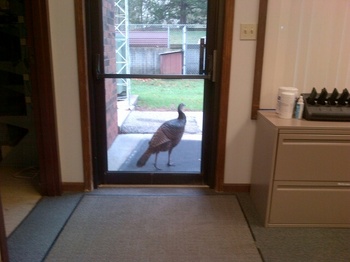 Courtesy of Michigan State Police
Sgt.
Mark Thompson
said the trooper was, in fact, being watched by a bird — a turkey, to be precise. Thompson said the bird has been hanging around the post, 4803 Old US-23, throughout the day.
The bird seems friendly — unlike one of its brethren that's been stalking a Commerce Township woman — and the troopers have adjusted to its presence, Thompson said.
Still, troopers came to a consensus, Thompson said. "They would exit the post through the garage door to load their gear into the patrol cars."
The Brighton post has patrolled Washtenaw County since the Ypsilanti post closed in October.
Apparently the turkey fancies itself a sort of watchdog — it returned several times throughout the day to look through the glass door of the post, often just sitting on the door mat and watching what goes on inside, Thompson said.
Local crime reporters were rumored to be jealous of the turkey's access to the post.
Kyle Feldscher covers cops and courts for AnnArbor.com. He can be reached at kylefeldscher@annarbor.com or you can follow him on Twitter.