Posted on
Mon, Mar 26, 2012 : 11:28 a.m.
Freeze warning issued for Ann Arbor; tender plants and blossoms at risk
By Cindy Heflin
That lovely early spring show of bright yellow forsythia, pretty white Bradford pear tree blossoms and pink flowering cherry trees could all come to a chilly end overnight.
The National Weather Service has issued a freeze warning for the Ann Arbor area effective from 11 p.m. Monday until 10 a.m. Tuesday. Temperatures are expected to fall into the middle to upper 20s and widespread frost is likely after 10 p.m.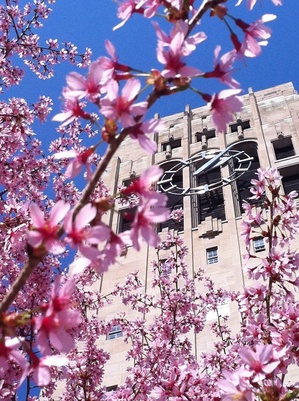 Photo courtesy of Charlie Wawro
That's enough to ruin spring blossoms on many flowering trees and kill newly planted shrubs and perennials, said Michael Palmer, manager of horticulture at the University of Michigan's
Matthaei Botanical Gardens
.
Especially vulnerable are any annuals, except for pansies, planted by gardeners tempted by the recent abnormally warm temperatures to get a jump on spring planting. Shrubs and perennial plants already established in the landscape should recover.
A frost or freeze could also damage pansy blossoms, but the plants will recover in about a week, Palmer said.
The cold could also damage fruit trees that have started to blossom. Palmer said he's seen no apple trees in flower but has seen cherry and plum trees.
A frost this time of year is normally no problem for perennials, Palmer said, but this year is different. The abnormally warm spring has coaxed the plants into flowering much earlier than usual. "The trouble is that it's been warm so long," he said. "They're further along than what they would be, … so it's more damaging."
You might be able to save susceptible annuals if you cover them. Palmer recommends a woven material of some kind. Plastic, he said, tends to draw heat away from the plants, exactly what you don't want to do. Gardening centers sell row cover, which works nicely, he said, or you could use a lightweight blanket. Be sure to secure it along the corners and edges with stones or bricks. You can remove it once temperatures warm above freezing on Tuesday.
As for taller perennial plants and bushes, they're harder to salvage, but Palmer said you could try protecting them by making a frame around the plant and covering it with the row cover or other woven material. He said just draping material over the top of a bush won't do it. It has to be secured to the ground.
The blossoms on tall flowering trees probably can't be saved, but the tree itself will probably be fine. Most trees can withstand defoliation twice in a growing season, he said.
Just how cold will it get? The National Weather Service predicts a low of 26 degrees in the Ann Arbor area overnight under clear skies. That's after a high Monday of 46. Tuesday, we can expect a mostly sunny day with a high near 50.
Fortunately, no frost is in the forecast Tuesday night — just cloudy skies and a low around 47. Wednesday will bring the warmest weather of the week, with mostly sunny and breezy conditions and a high of 65. High temperatures in the high 40s and low 50s are expected the rest of the week.
For updated forecaset and weather conditions any time, check AnnArbor.com's weather page.
Contact Cindy Heflin at 734-623-2572 or email her at cindyheflin@annarbor.com or follow her on Twitter.