Posted on
Tue, Jun 22, 2010 : 5 p.m.
Friends remember Ann Arbor mother, daughter killed in car accident in Virginia
By Lee Higgins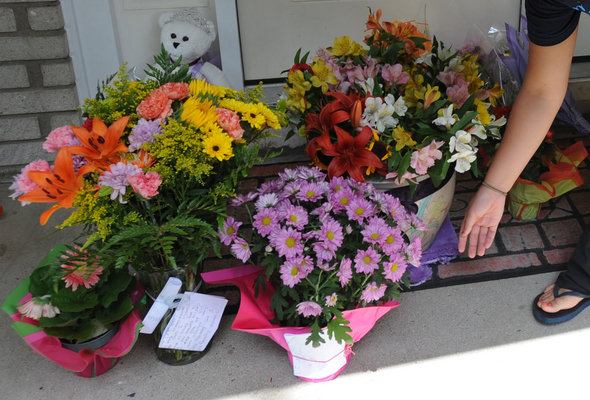 Lon Horwedel | AnnArbor.com
Theresa Supica was a loving, nurturing mother who was committed to her children's athletic and academic pursuits, but always made time for others, her friends and neighbors said today.
Supica's 12-year-old daughter, Samantha, was "a sweetheart," who loved to bake cakes and enjoyed playing soccer and softball competitively, said family friend Cynthia Schmidt.
Both were killed Monday morning when a car struck their sport utility vehicle on I-95 south in Henrico County, Va., The Richmond Times-Dispatch reported.
Samantha's sisters, 14-year-old Sloane and 15-year-old Sydney, who was driving, are recovering at VCU Medical Center from injuries sustained in the collision, Schmidt said.
Schmidt said she spoke to Sloane, Sydney and Theresa's husband, Scott, on the phone this morning. Scott took a flight to Virginia after the accident, Schmidt said.
"Today, I told Sloane and Sydney I'm gonna be there for them," Schmidt said. "And I told Scott the same thing. And he said, 'We're gonna need it.'"
Schmidt was among 10 people who gathered outside the Supica's home in the Churchill Downs neighborhood on Ann Arbor's west side this afternoon. Several children sat on the front lawn, struggling to come to grips with what happened.
Bouquets of flowers, candles and a teddy bear were left on the front porch. A white sheet spray-painted with "We Love U" was staked into the ground.
Family friend and neighbor Susan Gilligan recalled how Theresa always made sure people knew how important they were to her. When Gilligan's daughter celebrated a birthday several years ago, Theresa snuck into her bedroom and decorated it with balloons and posters, Gilligan said. When Gilligan's daughter had appendicitis, Theresa hurried to the hospital to see her.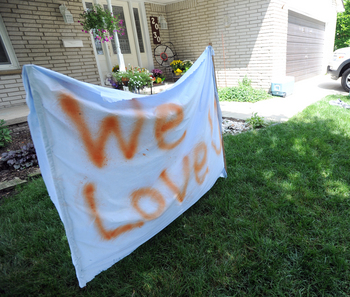 Lon Horwedel | AnnArbor.com
"It just seems surreal," Gilligan said. "It just makes you appreciate how you can't take things for granted."
Sydney, who is set to enter her junior year at Pioneer High School next fall, is a talented field hockey player and was driving to Virginia Beach to compete in the National Futures Championships, Schmidt said.
The Supica's Ford Explorer was struck by a Toyota Corolla that lost control as it changed lanes to avoid another vehicle, the Times-Dispatch reported. The impact caused the Explorer to veer out of control and overturn several times before coming to rest on its roof.
According to the Times-Dispatch, Samantha and her sisters were wearing seat belts, and police continue to investigate whether their mother was wearing one.
The driver of the Corolla, 20-year-old Se H. Yoo of Centreville, was wearing a seat belt and suffered minor injuries, the Times-Dispatch reported.
Anna Massey, whose husband is Theresa's first cousin, has a 14-month-old daughter, Kate, who Theresa regularly watched while Massey was at work. Massey recalled one day in late May when she dropped Kate off with Theresa and was concerned because Kate had a fever. Theresa told her not to worry, assuring her that she would take good care of Kate.
"She just held her all day," Massey said. "She loved Kate like she was her own. Kate loved her. Kate would reach for her."
Juliet Lotts, a retired art teacher from Lawton Elementary School, taught all three Supica girls and got to know their mother. Theresa volunteered for several years at the school, coordinating the yearbook.
"Theresa the mom was a constant giving, volunteering person who immersed herself in her kids' lives in a fun and positive way," Lotts said.
Lotts said Samantha was a quiet, friendly girl. It's especially difficult because Samantha passed away at such a young age, Lotts said.
"I guess she's just a little angel now," she said.
Theresa was married to Scott, who works at Ford Motor Company, for at least 16 years, friends said. She grew up in Ypsilanti, and Scott is from Ann Arbor, friends said.
Cathy McKenney has been a neighbor of the Supica family for more than 15 years.
"They were always welcoming other kids in their home," she said. "Just very nice, outgoing people. They're gonna be missed."
A district crisis team will be at Slauson Middle School from 7-8:30 p.m. tonight to offer support and allow people to sign cards for the family. Samantha was going to enter the eighth grade at Slauson in the fall.
A memorial fund is being set up at TCF Bank to accept donations for the family.
Lee Higgins is a reporter for AnnArbor.com. He can be reached by phone at (734) 623-2527 and leehiggins@annarbor.com.