Posted on
Thu, Dec 22, 2011 : 4:15 p.m.
Gov. Rick Snyder signs domestic partner benefits ban into law
By Kellie Woodhouse
This story has been updated.
Michigan Gov. Rick Snyder signed a heavily-debated and controversial domestic partner benefits ban into law today.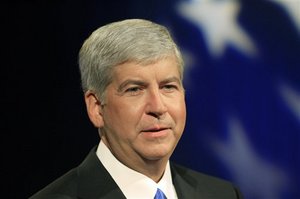 Public employees, including state and local government workers and public school teachers, will no longer be allowed to extend their health care benefits to domestic partners.
It is unclear whether the bill applies to state universities, although Snyder asserts that it does not. House Republicans, meanwhile, say it does apply to university employees.
The move is a blow to gay and lesbian activists throughout the state.
"We're so very disappointed in the governor," Kary L. Moss, executive director of American Civil Liberties Union's Michigan chapter, said in an interview. "This was the moment for him to show real leadership, to rise above what I believe is petty politics, to tell the rest of the country that Michigan is not living in the dark ages and to create an open, inclusive Michigan."
The legislation was strongly opposed by the Ann Arbor City Council, Washtenaw County Board of Commissioners, Ann Arbor/Ypsilanti Regional Chamber of Commerce, University of Michigan and Eastern Michigan University.
City Administrator Steve Powers said the city of Ann Arbor offers domestic partner benefits as long as the employee and "other qualified adult" have lived together for 18 months. He said there currently are 12 adults receiving such coverage from the city.
The county's policy is similar. County Administrator Verna McDaniel said the county provides domestic partner benefits to nine "other eligible adults" right now.
In a letter penned after signing House Bill 4770 this morning, Snyder said the ban "does not extend to university employees" because of autonomy awarded to public universities in the Michigan Constitution.
The University of Michigan reported that 570 adults and 48 children currently receive benefits through a domestic partner allowance.
U-M and Eastern Michigan University officials have openly criticized the ban, saying it's harmful to a state economy that is still rebounding from recent years.
Moss said the bill was discriminatory and was likely to end up in court. That sentiment has been echoed by several local lawmakers, including State Rep. Jeff Irwin, D-Ann Arbor.
Leigh Greden, EMU's executive director of government and community relations, said the school does "not believe this legislation applies to EMU or any of the state's public universities."
Greden reiterated EMU's opposition to the bill.
"These benefits remain important to reviving Michigan's economy and in helping our state to compete for the best talent to educate our students," he said. "That's why Michigan's universities worked with business groups to oppose this legislation."
Cynthia Wilbanks, U-M's vice president for government relations, said earlier this month that the university remains unclear about the impact of the amended legislation.
"There seems to be some difference of opinion about whether the approved legislation applies directly to state universities," she said then. "That remains a serious concern."
Today, however, U-M spokesman Rick Fitzgerald said the university agrees with Snyder's analysis that the ban does not apply to universities.
"We continue to believe that all of the benefit offerings at the University of Michigan are in full compliance with state law," he said in an email.
AnnArbor.com government and politics reporter Ryan J. Stanton contributed to this report.
Kellie Woodhouse covers higher education for AnnArbor.com. Reach her at kelliewoodhouse@annarbor.com or 734-623-4602 and follow her on twitter.