Posted on
Fri, Oct 30, 2009 : 5:15 p.m.
FOIA Friday: National Security Archive and sidewalk repair
By Edward Vielmetti
FOIA Friday is a regular column about using Freedom of Information Act laws to shed light on the activities of government. This week's installment looks at the National Security Archive, a non-profit library at George Washington University that collects declassified information about the workings of the federal government. We'll also delve at least a little bit into the minutiae of how sidewalks get repaired in Ann Arbor.
If you missed the start of this series, the first post is a good introduction.
National Security Archive
The biggest and oldest resource for information liberated from the United States government is the National Security Archive, an independent non-governmental research institute and library located at The George Washington University. The archive collects and publishes declassified documents obtained through the Freedom of Information Act. They describe themselves as repository of "government records on a wide range of topics pertaining to the national security, foreign, intelligence, and economic policies of the U.S." Â It won the 1999 George Polk Award, one of U.S. journalism's most prestigious prizes, for — in the words of the citation — "piercing the self-serving veils of government secrecy, guiding journalists in the search for the truth and informing us all."
A recent set of stories that got wide attention in the media resulted from this organization's investigation into the use of loud music in interrogation as a means of torture - including a revelation from 2004 that a Guantanamo detainee was subjected to "a dance version of Eminem played repeatedly again and again".
The National Security Archive's blog, Unredacted, chronicles their day by day efforts at transparency and openness in government. They have also published a guide, Effective FOIA Requesting for Everyone, to guide researchers through the process.
Requests received
This is a very partial list of things we have received that are not yet turned into stories, either because there's more to look for or because what we got back was incomplete enough that we have to go back for more.
Sidewalks:Â After three weeks of waiting, I got back the sidewalk inspection information request that I had sent in for a stretch of cement on the northwest side of the city. I've read through it - it's only about eight pages - and it poses more questions than it answers. I'm following through with more questions about the property and other interactions between City staff, neighbors, and elected officials. What I do know is that the sidewalk was repaired after the FOIA was sent in, but the FOIA does not mention that repair.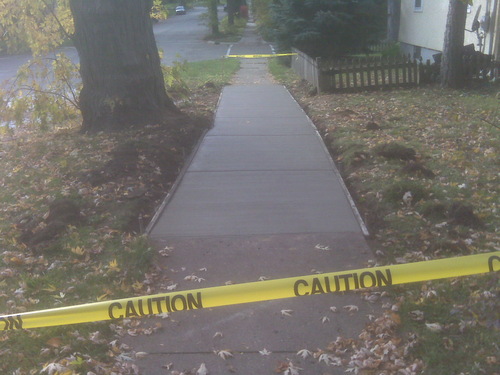 Requests in process
We always have FOIA requests in the work queue; here are a few of them that to some work in progress and continuing stories that have been informed by government records.
Willow Run Community Schools:Â We have requests in to the school system as we follow the state of that district; most recently, an emergency meeting of the Willow Run school board was cancelled which had been called to name an interim superintendent.
Washtenaw County Sheriff's Department:Â We note with interest that the official form to request records includes a blank field for the requester's driver's license number.
Traffic calming:Â We're looking forward to getting copies of requests for information about traffic measurements in the neighborhoods around the East Stadium Bridges.
University of Michigan:Â An upcoming project is to sift through our FOIA responses from the university and figure out why they are systematically more expensive to fulfill than other organizations.
Bridges:Â With several high profile bridge failures in the news - the Bay Bridge in San Francisco, the Lake Champlain bridge between New York and Vermont - we're collecting some background that will help understand communications at the federal level about bridge funding, maintenance, inspection and repair.
Traffic crash and accident reports:Â No FOIA is needed to sift through public traffic crash records from Michigan Traffic Crash Facts, which has tools to create maps from traffic events from 2004 to 2008 plus uniformly redacted reports on all accidents.
As always this list is incomplete; look for more information as part of our regular coverage of what is happening around the area.
Edward Vielmetti is Lead Blogger for AnnArbor.com and writes the FOIA Friday column. Like the Mackinac Bridge, he is functionally obsolete but structurally sound.