Posted on
Tue, Nov 6, 2012 : 11:21 a.m.
Governor Snyder casts ballot, says Proposals 2 and 5 could be most damaging to Michigan
By Ben Freed
Related Story: Long lines reported at polling places in Ann Arbor
Complete election coverage
Republican Governor Rick Snyder waited with his family for about half an hour to vote at his home polling station in Superior Township.
The governor has not been shy with his opinions on the statewide ballot proposals, and said that of all the proposals on the ballot, he is most concerned about the impact Proposals 2 and 5 could have on the state if they pass.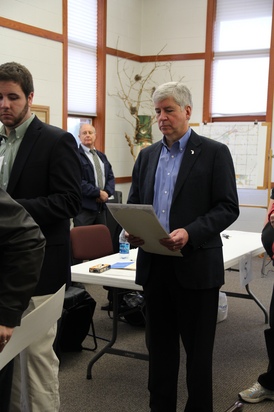 Ben Freed | AnnArbor.com
"
Proposal 2
, if it were to pass, would be economically devastating to Michigan," he said, repeating a line he has been making on his statewide bus tour promoting a "Yes on 1, no on the rest" message.
"That's the one that if it were to pass would bring our recovery to a grinding halt. Proposal 5 would also have very negative consequences. So from a relative perspective No on 2 and No on 5 are most important to me."
Proposal 2 would grant constitutional right to organize for public and private sector employees, while Proposal 5 would require a two-thirds majority in the state houses or a public referendum to pass any tax increases.
Governor Snyder said he felt that many of the advertising campaigns relating to the ads had been disingenuous, misleading and inaccurate.
"The 'Yes on 6' campaign is a good example of that," he said.
"I saw a commercial and the accurate parts were 'there's a bridge' and 'there's Michigan' but the rest was just misleading."
Follow the results
Keep an eye on the voter tallies as they come in
In Superior Township, voters were being asked to weigh in on the bond proposal for a
new downtown Ann Arbor library
. Snyder did not say whether he voted for the bond, but did comment that he thought it was a good thing that there was a substantial amount of discussion and healthy disagreement within the Ann Arbor community.
The Ypsilanti and Willow Run school consolidation plan was not on the governor's ballot, but he did praise the efforts of those behind the measure.
"I'm pleased to see that people are looking at those kinds of opportunities," he said.
"I leave it up to the citizens to decide, but I've been a big advocate of sharing and services consolidation. I haven't been pushing legal consolidation, but it's a precursor to that to say if you can work through those issues there might be better way to do things."
Snyder said nationally that he continued to support Mitt Romney because Washington has been "holding back the economic recovery in Michigan."
"Not having a budget, the national debt, and the need for tax reform," he cited as issues that national politicians need to solve. "We've done them in Michigan. In the first year and a half we took care of those issues."
Ben Freed covers business for AnnArbor.com. You can sign up here to receive Business Review updates every week. Reach out to Ben at 734-623-2528 or email him at benfreed@annarbor.com. Follow him on twitter @BFreedinA2