Posted on
Wed, Jan 18, 2012 : 10:55 p.m.
Governor's transportation-heavy agenda for 2012 welcomed by Ann Arbor area lawmakers
By Ryan J. Stanton
Gov. Rick Snyder drew mixed reactions from local lawmakers following Wednesday's State of the State, but it appears there's some support for his transportation-heavy agenda.
Among the issues Snyder hopes to tackle in 2012, the Republican governor cited finding an extra $1.4 billion in annual funding for roads, expanding regional public transit services in Southeast Michigan and building a second bridge from Detroit to Canada.
"He's continuing to use my number of $1.4 billion in additional funding that we need to maintain our roads, so I see that as a good sign," said state Rep. Rick Olson, R-York Township, who plans to introduce the first piece of legislation on that next week.
State Rep. Jeff Irwin, D-Ann Arbor, said he thought Snyder's speech was filled with a lot of pleasantries and platitudes, but he liked some of what he heard on transportation.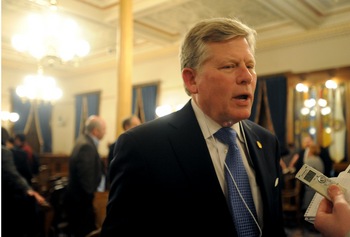 Angela Cesere | AnnArbor.com
"Some of those ideas are good ideas," he said. "I've been working on trying to expand public transit opportunities and improve our roads for a long time. It's a great priority."
Irwin criticized Snyder for not laying out a more specific plan.
"He did a little two-step there at the end," he said. "He laid out some of these broad good concepts and then he said, 'And I want to start a conversation on that.'"
State Rep. Mark Ouimet, R-Scio Township, said he was happy to hear Snyder share good news regarding the state's unemployment rate and he supports the governor's agenda for 2012.
"I think it was right on," he said. "The governor has a clear idea for our cities to be successful. We've got to have a mass transit plan and then match that plan with funding."
Ouimet said he had to give Snyder credit because some of the ideas he's talking about are not universally popular.
"But I think he clearly understands it," he said. "So for Detroit to be successful, I think we've got to have mass transit in Detroit and around Detroit."
Olson agreed a regional transportation authority for Southeast Michigan, which Snyder supports, is needed.
Irwin asked Olson about that after the speech.
"Does the fact that when the governor talked about transit and, as far as I know, none of your colleagues stood and clapped at that one piece, is that indicative that there's no opportunity for bipartisan compromise on that issue?" Irwin said.
"No, I think there will be," Olson responded. "For a lot of Republicans, transit is just not as big an issue. Let's just face it, because a lot of them aren't in the more urban areas."
Bipartisan support also is needed on the bridge issue.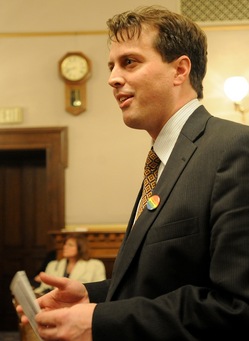 Angela Cesere | AnnArbor.com
"Obviously that's somewhat controversial," Olson said. "But if we can get it to a point where no state taxpayer money is used to build a bridge or bail out a new bridge authority, I'm OK with that, so hopefully we can do that because all that means jobs."
Olson said the 13-bill package he and other lawmakers are planning to introduce next week to raise new funding for roads in Michigan will need bipartisan support, too.
Snyder spoke of the need to raise $1.4 billion in additional road funding last fall and cited some examples for how to get there. Some of those ideas have been tweaked, Olson said.
"Instead of his example of eliminating the gas tax and putting in a revenue-neutral sales tax at the wholesale level, the bill that I will be introducing myself — instead of being revenue-neutral — will bring in something over $500 million," he said. "That's real money."
And instead of Snyder's example of an increase in vehicle registration fees by $120 per person per year, that's ratcheted down to bring in about $500 million, Olson said.
"Instead of the flat dollar amount, we put in a percentage increase," he said, "so that the people who are driving lower-valued vehicles would have a percentage increase but the total amount is not going to be as big as those people who own real expensive vehicles."
As for a regional transit authority, Irwin said he's on board with the concept but he'll need to see the details and how it fits with the Ann Arbor Transportation Authority.
"We need to see how Washtenaw County is treated in the relationship," he said. "We also need to see how our transit agency is going to be treated in the relationship because AATA does a very good job with what they do. We don't want to create a situation where they may be sucked into some of the problems that are happening across the 8 Mile divide."
Ryan J. Stanton covers government and politics for AnnArbor.com. Reach him at ryanstanton@annarbor.com or 734-623-2529. You also can follow him on Twitter or subscribe to AnnArbor.com's email newsletters.