Posted on
Sat, Apr 9, 2011 : 1:06 p.m.
'Grade-in' aims to restore respect for work done by teachers
By Lisa Carolin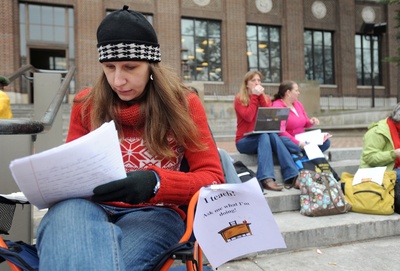 Angela J. Cesere | AnnArbor.com
Note: Story has been updated to correct a school district.
Many teachers in Michigan are feeling pressure from education funding cuts and the recently passed emergency financial manager bill that expands the power of those managers and allows them to ignore union contracts and dissolve school boards.
"They're probably businessmen who can balance a budget, but they aren't aware of the cost to students," said Southgate school district teacher and Ann Arbor parent Kate Pasola.
"I have a master's degree and two BAs and I had to go through certification," said Jennifer Barton, who is also a Southgate teacher and an Ann Arbor parent. "We work with children every day and learn to differentiate education to the needs of every child. If an emergency financial manager comes in who doesn't have an education background, I'm concerned if they have the students' best interests at heart, and I don't think having them demonstrates a democracy to our students."
Pasola and Barton organized a teacher "grade-in" today at the University of Michigan Diag that attracted more than three dozen teachers representing districts in both Washtenaw and Wayne counties. The grade-in idea originated from a group of New Jersey teachers who gathered at a mall one weekend to grade papers to demonstrate in a positive way all the extra time that teachers devote to their work. After Lansing teacher Franklin Mays organized the first grade-in in Michigan last month, Pasola got the idea to do so in Ann Arbor.
"There's so much hate and disrespect to teachers," said Pasola. "I want people to know how I take care of my students and love them and how I want to meet their needs. Sharing those kinds of positive stories will show the public that we are worthy of their respect."
Angela J. Cesere | AnnArbor.com
"We constantly defend our position when people tell us that we have more benefits and better pay and put in less time comparatively," said grade-in participant Jill Fyke, a teacher in the Dexter school district. "I spent the first 10 years of my career in sales, and I now make half of what I used to make. I wouldn't trade it because I love teaching, and parents in Dexter appreciate us."
Elizabeth Scott, a teacher at Ann Arbor's Honey Creek Community School, attended today's grade in to raise awareness about what teachers do. She's spent a large portion of the district's spring break doing student progress reports and preparing for the rest of the school year. Both she and Fyke are currently working on their master's degrees at Eastern Michigan University, something they pay for to keep their teaching certifications current.
"Teachers do so much outside of their jobs to learn and to help students," said grade-in participant Cathy Fleischer, an English professor at Eastern Michigan University who directs some of the masters programs. "It's typical for teachers to take on extra projects to become better teachers."
Some teachers at the grade-in carried signs stating, "I teach. Ask me what I'm doing." They were hoping to interact with non-teachers. One such visitor to the grade in was Kim Linton, who has seven grandchildren, all attending public schools in Southeast Michigan including in Ann Arbor.
"I'm concerned how these cuts in education will affect our kids," said Linton. "I have two daughters who are teachers and they spend many hours outside the classroom working and spend their own money on classroom supplies."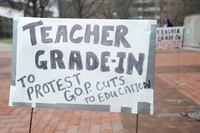 Angela J. Cesere | AnnArbor.com
Linton's daughter, teacher Kimbely Linton said, "There's so much negative media about teacher contracts. I've been forced down to a part-time job, but what I'm really worried about is my son's education and if he will get what he needs with all these cuts. Things won't get better in this state if the government takes money away."
"Michigan is driving young people out," said grade-in participant Wendy Raymond, a 34-year teaching veteran in the Ann Arbor school district. "Since public schools can't raise tuition, Michigan colleges have to, and it's all on the backs of our kids."
Said Pasola, "We need to get people's respect back and remind them that teaching is a noble profession."