Posted on
Mon, Sep 26, 2011 : 2:39 p.m.
'Graffiti alley' on East Liberty provides glimpse of changing street scene in downtown Ann Arbor
By Kyle Feldscher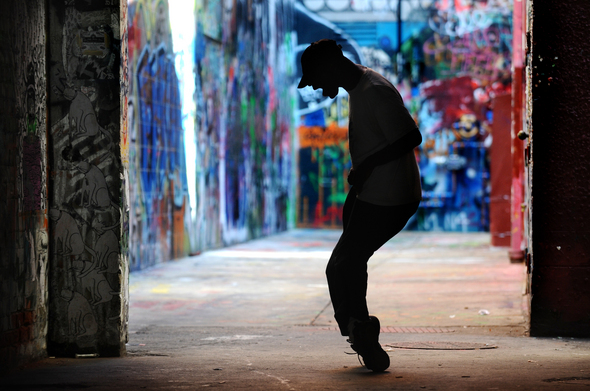 Melanie Maxwell | AnnArbor.com
The so-called "graffiti alley" on East Liberty Street can be one of the most interesting places to walk past in Ann Arbor, but this fall it's also described as one of the few places downtown that puts pedestrians on edge.
The alley's walls are covered with graffiti, and various types of music typically echo from them onto Liberty Street. The sounds can come from the acoustic guitar songs of a new street performer or well-known Michael Jackson songs providing a beat for the dancer who has performed in the alley off and on since 1995.
The combination creates a distinctive space along the retail corridor that extends west from South State Street and the shopping hub of the University of Michigan's central campus.
Yet that hub is changing. Poshh, a fashion boutique near the alley, is closing on Oct. 30, with owner Wendy Batiste-Johnson citing the "homeless problem" on Liberty Street as one of the reasons. Panhandling in the area also has grown as a downtown concern this fall.
Batiste-Johnson told AnnArbor.com earlier this week that the scene on Liberty Street is "driving customers away."
The heart of that scene for many who spend time on East Liberty is that alley, located between the Liberty Square Parking Structure and Rocky Mountain Chocolate Factory across the street from The Necto Nightclub.
Opinion on the area is split — the alley is either a piece of urban culture in the middle of Ann Arbor, where a feeling of community is palpable, or it's a place for homeless or transient people to loiter depending on who's speaking.
In the past 16 years, one Ann Arbor native has identified with the alley more than any other one person.
Brian Woolridge has danced to Michael Jackson songs in that alley since 1995 — before it was covered in graffiti. Woolridge works at Whole Foods in Ann Arbor, a job he began after a period of unemployment, and has auditioned for the TV show "America's Got Talent."
"It wasn't really used for anything and everything was plain and I just tried to see what would happen if I danced," he said, "and I've been dancing ever since."
Woolridge's persistence in returning to the graffiti alley year after year has made him into an Ann Arbor icon. He recalls the cement base of the alley being painted like a yellow brick road, a la "The Wizard of Oz," and watching all of the other writings appear over time.
Also known for his presence in the alley in more recent times is "Sincere." Sincere doesn't give his name, talks about his wounds and plays guitar and sings there. He tries to talk to most who enter, and many who pass seem to know him.
Sincere's ability to work is limited — he says he has gout in one of his feet, a bullet in one of his thighs and his left calf muscle no longer works, something he demonstrates by flicking the muscle with his hand and letting it simply sway before comparing it with his much-more-defined right calf muscle.
He says, after near-daily visits to the alley during this summer when he first arrived in the city, he was brought to it "by the grace of God."
He envisions himself as a protector of the alley, playing his guitar and singing his songs while also making sure everyone who hangs out there behaves. Sincere admitted to having to call authorities after some incidents in or near the alley, but otherwise he finds "graffiti alley" to be one of the places in Ann Arbor that people can be artists.
"This is a beautiful place in a beautiful city with beautiful people, very intelligent people and it's beautiful," he said. "They're all very open-minded people and it's a liberal place and everyone's just doing their thing. You just gotta take a closer look at what you see because if you just take a glimpse, it seems ugly."
Sincere often attracts groups of people, ranging from teenagers writing in their notebooks while they listen to him to haggard-looking men who chat with him while they smoke cigarettes. His guitar case always sits open near the front of the alley, bills and coins sprinkled across the bottom.
Sincere never described himself as homeless, and even goes so far as to bring milk crates to the alley for people to sit on while he plays guitar and sings for them.
The alley's acoustics were praised by both Sincere and Woolridge, who said that the music just sounds much better in there. The secluded nature of the alley gives Woolridge a chance to lose his inhibitions and simply dance, he said.
The alleyway is covered from floor to ceiling with spray-painted art and short writings and stretches from the opening on Liberty Street, around a couple corners and onto Washington Street.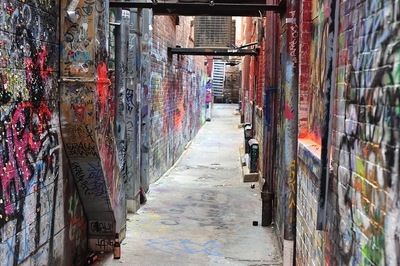 Ryan J. Stanton | AnnArbor.com
Russ Collins, the executive director of the Michigan Theater, said there are many owners of the alley space, including the Michigan Theater, the city of Ann Arbor, McKinley Properties and the Michigan Theater Office Building. All of the properties that back up to the alley have a stake in its ownership, he said.
Collins said the alley is used as a photographic backdrop for many high school seniors' pictures and for student films made in Ann Arbor.
He said there are areas where graffiti is painted over, and the area is supposed to remain either gray or red, but otherwise the artwork is tolerated.
"It's kind of an interesting urban dynamic and to a limited degree we're tolerant of it," he said. "It's a community thing."
Business owners on East Liberty Street disagree about the effect the people that hang out in the area are having on their stores.
Ann Arbor police Chief Barnett Jones said he didn't know offhand if there were a higher than usual amount of calls coming to police from the "graffiti alley." He added that, while he hasn't received complaints about the area into his office, it's an area patrol officers pay attention to.
"I can honestly tell you that officers on patrol know that area very well and they know the people who would frequent that area," he said.
Jones said he's traveled through the area before, including one time about 3 weeks ago when he and an officer walked through the alley. He said one of the more frequent visitors to the graffiti alley was sweeping up dust and trash.
Keenan Mayberry, the son of the owner of Rocky Mountain Chocolate Factory who works most day shifts, said he was pretty sure people are using drugs while in the alleyway. He said the scene at the alley can scare away customers who might otherwise come into the shop.
"Sometimes they loiter around and they kind of smoke cigarettes. I'm pretty sure they do drugs," Mayberry said. "They kind of scare away customers. They're not people you want to be around."
Mayberry said his mother has called the police a few times to try and get the crowd to stop hanging around the store. He said a lot of the people who have been coming by this summer have been train-hoppers, going town-to-town. Often they have dogs and sit around the area asking for money, he said.
Many city residents are suspicious of the alley, worrying about drug deals and usage. Tom Heywood, of the State Street Area Association, said the alleyway has become a place where people can go to hang out and potentially do illegal things because it isn't extremely visible from the street.
"The alleyway has become a hot hangout again. It hasn't been in years, but it is again," he said. "Until those kids are caught doing something illegal, I don't think it'll change."
Ann Arbor City Council Member Sabra Briere, 1st Ward, said problems have arisen in alleyways between Washington and Liberty in the last couple of years. She said there's a certain lawless nature to the area.
She tells a story about city officials once standing in the alley during a discussion when somebody walked up and started urinating on a Dumpster. "That was clearly an issue. And yet, nobody yelled at the guy."
The new groups of people hanging out in the graffiti alleyway have also caused one of the area's iconic figures to be seen less and less.
Woolridge said he's been making fewer appearances in the alley this year because there's been other people hanging out there and he doesn't want to cause any disturbances by setting up his stereo and dancing around them.
"Usually if there's someone here I don't try and bother anyone, and I've been working so I've had less time," he said. "I don't want to cause a bunch of drama."
AnnArbor.com's business reporter Lizzy Alfs contributed to this story.
Kyle Feldscher covers cops and courts for AnnArbor.com. He can be reached at kylefeldscher@annarbor.com or you can follow him on Twitter.