Posted on
Sat, Feb 18, 2012 : 2:04 p.m.
Greater Milan Area Community Foundation to hold gala at Weber's Inn
By Lisa Allmendinger
The Greater Milan Area Community Foundation will host its annual gala and auction on Feb. 25 at Weber's Inn.
Mike Armitage, chairman of the event, said Weber's is the site for the second year in a row. More than 225 guests are expected for the charity event that offers grants to Milan nonprofits and scholarships to seniors at Milan High School.
Andrew Humphrey from WDIV-TV will emcee the event, he said. Last year about $30,000 was raised.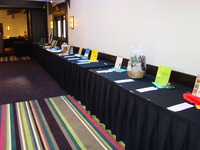 Courtesy photo | Mike Armitage
The foundation has been in Milan for about six years and already, about $125,000 has been given in grants to organizations such as the Veteran's Wall of Honor, Aid in Milan, First Steps, DARE and Your Spot, he said.
In addition, $50,000 was awarded in scholarships by the 14 trustees of the all-volunteer foundation.
"We have over $1 million invested, and use the interest for grants and scholarships," he said.
There are both a live and a silent auction, with about 52 items available for the silent auction, he said, including Red Wings suite tickets, trips, and new this year, 115 pounds of farm raised beef that's already been processed.
The event begins at 5:30 p.m. and a $65 ticket includes hors d'oeuvres, a full dinner and wine. There still are tickets available.
Call Armitage at 734-474-1574 for tickets.
Lisa Allmendinger is a regional reporter for AnnArbor.com. She can be reached at lisaallmendinger@annarbor.com.