Posted on
Sat, Mar 31, 2012 : 2:23 p.m.
Greenhills eighth-grader talks about second year of second place finish in Michigan Geography Bee
By Lisa Carolin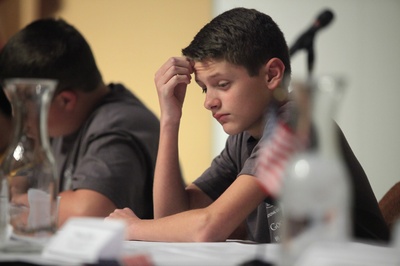 Mark Bugnaski | Kalamazoo Gazette
Geography bee ace
Matthew Petrillo
, 13, an eighth-grader at Ann Arbor's Greenhills School, has done it again. For the second year in a row, he finished in second place at the 24th annual state finals of the National Geographic Bee at Western Michigan University Friday.
It was a question about the country that switched its currency from the kroon to the euro that cost him the championship.
"I said Lithuania, and the answer was Estonia," Matthew lamented. "I wanted to win."
Instead, Philip Huang, a South Lyon student, took the top prize among the 100 competitors and will represent Michigan in the national competition May 22-24 at National Geographical Society headquarters in Washington, D.C.
Matthew returned from a school trip to Washington, D.C. late Thursday night and his dad had to drive him to the geography bee in Kalamazoo soon after and says Matthew only got an hour of sleep.
"Geography and history are Matthew's thing," said his dad, Bob Petrillo. "Matthew is a purveyor of information."
Matthew started reading at age 2 and is a voracious reader. He owns more than 500 non-fiction books, mostly about geography and history.
"I picked up a lot of knowledge over the years from reading," said Matthew Petrillo. "I really want to travel. I'd love to go to Italy because I take Latin at school and Italy has a cool history."
As far as his second year of finishing in second place goes, Matthew sees the bright side: "In a state with millions of people, I like being the second smartest in geography."