Posted on
Tue, Feb 28, 2012 : 5:22 p.m.
Greenhills teen pushes for lower PG-13 rating of new movie 'Bully'
By Danielle Arndt
Ann Arbor's Katy Butler, 17, is urging the Motion Picture Association of America to lower its rating on a new film that highlights school bullying.
The MPAA gave "Bully," which is set to be released in select theaters March 30, an R-rating for language.
The Weinstein Company, the studio behind the film, also attempted to appeal the rating and lower it to "PG-13" based on the movie's educational merit. But Weinstein was unsuccessful.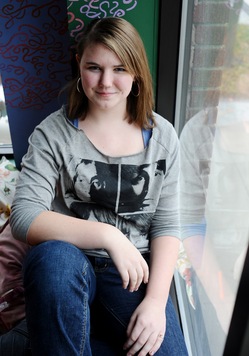 Butler, a
Greenhills School
junior who endured harsh name-calling, shoving and tormenting in middle school at
Ann Arbor Public Schools
, has taken matters into her own hands via a petition on
Change.org
.
More than 89,000 people had signed Butler's petition as of Tuesday afternoon.
Butler said the MPAA's decision means those people who need to see the movie most — the teens that bully their peers or have suffered violence at the hands of bullies — would not be allowed to see the film.
Her plea on Change.org states the MPAA robs teenagers of a chance to help reduce violence in schools. She said with the R-rating, "Bully" could not be screened in middle or high schools across America.
"I can't believe the MPAA is blocking millions of teenagers from seeing a movie that could change and — in some cases — save their lives," she wrote. "According to the film's website, over 13 million kids will be bullied this year alone. Think about how many of these kids could benefit from seeing this film, especially if it's shown in schools?"
This is not Butler's first anti-bullying petition on Change.org. In the fall of 2011, Butler led an online petition against pending legislation in Michigan called the "blueprint for bullies" and advocating for anti-bullying legislation that doesn't exclude students targeted for attacks based on sexual orientation.
The first petition garnered 56,436 signatures.
"Bully," a documentary by Lee Hirsch, follows five children and their families whose lives have been affected by school bullies.
The Weinstein Company is known for making films that push the envelope of what's acceptable.
For more reading on the topic, check out the following column by Gary Susman of The Huffington Post: 'Bully' documentary: Weinstein Company loses appeal over R-rating.
To view Butler's petition, click here.
Staff reporter Danielle Arndt covers K-12 education for AnnArbor.com. Follow her on Twitter @DanielleArndt or email her at daniellearndt@annarbor.com.