Posted on
Wed, Feb 22, 2012 : 2:59 p.m.
U-M research assistants seeking union election face new roadblock in State Legislature
By Kellie Woodhouse
The quest for unionization might become a lot more complicated for the group of University of Michigan Graduate Student Research Assistants that has been battling college administrators and state officials for the right to form a union.
The Michigan Senate Wednesday passed SB 971, a bill that defines GSRAs as students and not employees and threatens to thwart attempts to form a union.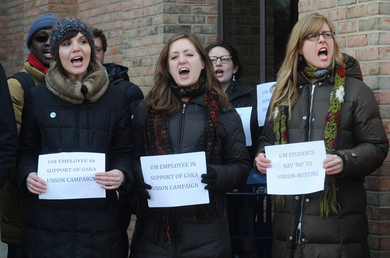 The question of whether GSRAs should be considered students or employees is central to the conflict over whether the research assistants can legally hold a union election.
Many university administrators, deans and faculty —including U-M President Mary Sue Coleman— have argued publicly that GSRAs attend U-M to learn and study under their advisers and are not employees. They say that treating GSRAs as employees would be damaging to U-M's academic mission.
The U-M Board of Regents, however, voted in May to allow GSRAs the right to vote on forming a union and urged the university to promote "mutually productive labor relations."
Since then, a group of GSRAs has been working to overturn a 1981 ruling by the Michigan Employment Relations Commission that defines GSRAs as students. MERC is in the midst of an administrative hearing that collects testimony from GSRAs and U-M administrators. Michigan Attorney General Bill Schuette has publicly stated that GSRAs should not be able to hold a union election. He filed a motion to intervene in the MERC hearing but was denied.
The MERC decision, however, may be made irrelevant by SB 971. Introduced Thursday, the bill rapidly moved through the committee process and passed through the senate on a party line vote Wednesday. Senate Majority Leader Randy Richardville (R-Monroe) proposed the bill.
"This whole thing has taken all of us by surprise," said Jeremy Moore, an electrical engineering and computer science GSRA and a member of the Graduate Student Employees Organization, a group that advocates on behalf of GSRAs seeking unionization.
"It's wrong for the Legislature to try to just pass a law to circumvent this whole process," he continued. "A lot of people here are frustrated because we've been working on this for a long time and we followed all the proper procedures ... and to be stopped in this way is just not fair."
During an emergency meeting held Tuesday the Board of Regents agreed. In a 6-2 vote the board vowed to "to take all available action in opposition" of the bill.
Victor DiRita, a U-M microbiology professor and associate dean of graduate and postdoctoral studies, has been an outspoken opponent of a GSRA union election.
"It brings a lot of common sense back to the educational system," he said of the bill.
"The whole thing is predicated on a definition the regents have provided outside (the recommendation) of academics and people who actually educate students," DiRita continued. "This puts an end to that definition."
Kellie Woodhouse covers higher education for AnnArbor.com. Reach her at kelliewoodhouse@annarbor.com or 734-623-4602 and follow her on twitter.