Posted on
Sat, Feb 18, 2012 : 5:57 a.m.
Habitat For Humanity works to build pipeline of applicants for growing number of homes
By Janet Miller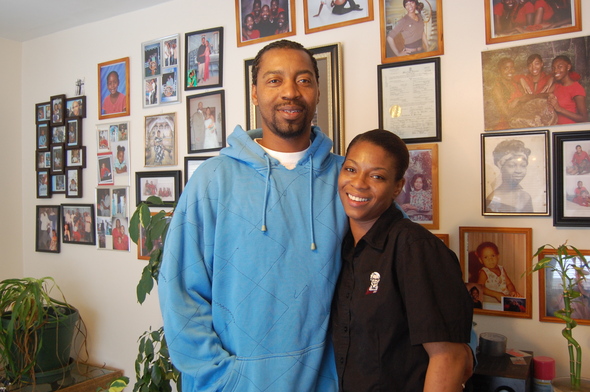 Janet Miller | For AnnArbor.com
Melissa and Anthony Roberts
wanted to move from the
West Willow
neighborhood house they rented in Ypsilanti Township. There were mold and mildew problems, it took two weeks for the landlord to respond to a disabled furnace that left them without heat one winter and there was little insulation and leaky windows. "The house wasn't taken care of," Melissa said.
They looked into buying a modular home, but the lot fees made it beyond their financial reach. They didn't want to move back into an apartment. They didn't qualify for a conventional mortgage. And they knew they couldn't afford more than the $800 a month in rent they were already paying.
Buying a house seemed like a pipe dream.
Until they found out that Habitat for Humanity operated in Washtenaw County.
The Roberts became the first in either of their families to become homeowners last summer when they moved into a three-bedroom, one-bath bungalow in the Nancy Park neighborhood of Ypsilanti Township.
"Buying a house has meant so much to us," Melissa said. "We've hardly left the house since we bought it, except to go to work. It's my comfort zone. It's the best feeling ever."
Janet Miller | For AnnArbor.com
It beats paying rent, Anthony said. Their monthly payments are $435, almost half of what they were paying in rent. "And we can change it, like painting a room, without anyone else's permission," he said.
For the first 16 years, Habitat for Humanity of Huron Valley built new homes for working families that fall between 30 percent and 60 percent of the median income for the area. Five or six houses would be completed each year, but there was always a waiting list.
"Before 2008, we knew we wanted to do more and we discussed how we could raise more money, could we build differently, we looked at multiple family dwellings," said Sarah Stanton, Habitat's executive director. Buying existing houses was too expensive.
But what was bad news for the housing market in 2008 became a boon for Habitat: The price of existing housing fell like a hammer on a nail, creating a pool of foreclosed houses priced at a fraction of their value a few years before. "It created an opportunity for us to do more," Stanton said.
Habitat took a sharp turn from building new houses to renovating foreclosed ones and in the process has been able to nearly triple the numbers of homes available to Habitat families, including the Roberts' house.
But the increase in the number of Habitat houses created a new issue, Stanton said: Finding families to fill them.
There is no longer a waiting list to buy a Habitat house, and the organization is offering current homeowners $250 for referrals that lead to a purchase, said Maggie Porter, development director. "We are trying to build a pipeline by getting families qualified faster."
"We've never had to advertise Habitat in terms of finding buyers," Stanton said. "But now, with more opportunity, we need to get the word out. We've become a best-kept secret." Habitat created a commercial for the website and TV meant to attract homebuyers.
They've made applying easier by posting the forms online, where interested families can determine if they are eligible. Habitat, she said, needs to rebrand itself. "People think it's a giveaway program and we need to re-frame that to it's a fantastic way to buy a house, that it's another affordable housing option."
While it's not a give-away program - buyers make a $500 down payment, must have a job or other income, pay a monthly mortgage that averages $500 to $600 and must contribute 300 hours of sweat equity for each adult - it's also not for everyone.
There are income requirements. The income range for a family of three, for example, must be between $1,966 and $3,935 a month. They must be ineligible for a conventional mortgage, and they must live or work in Washtenaw County.
Habitat families typically earn between $12,000 and $18,000 a year, Stanton said. "These are hard-working people with regular jobs: They work in day care or in schools or as custodians at the University of Michigan. But they haven't been able to save up the 20 percent needed for a down payment."
Last year, 14 families purchased renovated Habitat homes. Fifteen houses should go on line in 2012, Stanton said. The average cost of a Habitat home in Washtenaw County went from $110,000 for a new home to about $85,000 to purchase and renovate a foreclosed house. And because all of the renovated houses are five-star energy rated, owners save about $1,000 a year in utility costs, Stanton said.
Habitat is the mortgage holder on the no-interest loans. Typically, the mortgages are for 20 to 22 years, but there's flexibility that insures affordability. Habitat holds 106 mortgages.
Earlier this month, Habitat saw its third homeowner pay off a mortgage. While requirements prohibit Habitat homeowners from flipping their houses, they are free and clear of the restrictions once the mortgage is paid. Turnover is low, and foreclosures even lower. There have only been two or three in the organization's history, Stanton said.
The Roberts' house sits in the middle of the Nancy Park neighborhood in Ypsilanti Township. It's a mix of modest bungalows and ranches where there's been a number of foreclosures, but not enough to make it only rentals, Stanton said. Habitat has targeted the neighborhood, with 19 houses competed or in the pipeline, Stanton said.
"We keep houses from being boarded up and the block starts to look better so the neighbor next door starts to feel better about putting a new roof on. The whole neighborhood rises."
Habitat will hold an appreciation breakfast Feb. 25 at Washtenaw Community College as a way to acknowledge homeowners and attract new ones.
For more information on Habitat, go to http://www.h4h.org/.