Posted on
Sat, Apr 7, 2012 : 2:46 p.m.
'It's a good vibe:' Hash Bash attracts people from across the country
By Lisa Carolin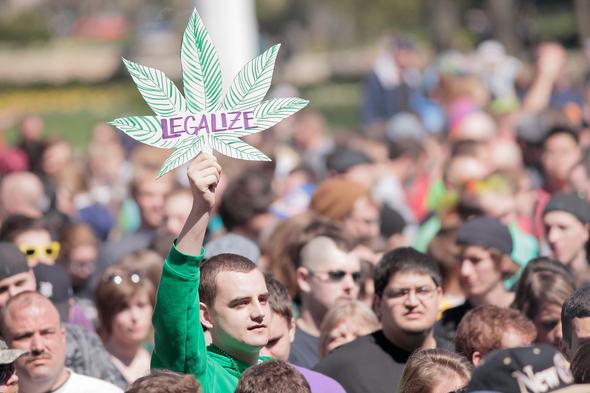 Chris Asadian | AnnArbor.com
Visitors came from as far away as the West Coast and from as near as the University of Michigan campus to attend Saturday's Hash Bash rally on Diag.
Brandon Baxter, a U-M sophomore, invited family members to experience the Hash Bash.
"I want them to get a taste of fighting for something you believe in," said Baxter. "Ann Arbor was a center of social movements in the 1960s and '70s. It's nice to see a little of that remaining."
"I like hanging out with people who have similar interests," said Samantha Szukhent, who was visiting from Flushing.
Noah Lipsitz and Emily Lorie, both from Southfield, were attending their first Hash Bash. Lipsitz said his mother and Lorie's father attended some of the early Hash Bashes.
"I'm impressed," said Lipsitz. Lorie added, "It's a good vibe."
Kelsey McHugh and Christian Dennis came from Fenton to support the cause of legalizing marijuana.
"I think pot should be governed by the same laws as alcohol," said McHugh.
"I smoke weed a lot and am perfectly functional," said Dennis.
"This needs to be legalized," said Andre Nonnenmacher from Ann Arbor. "Smoking pot is less harmful than taking pills or smoking cigarettes."
Also attending today's rally was a comedy group from the West Coast looking for material for an upcoming television program called "Buzz TV." Chili Challis, a stand-up comedian who has performed in Ann Arbor and who has written for The Tonight Show with Jay Leno, was happy to be back in Ann Arbor.
"Everybody knows about the Hash Bash coast to coast," said Challis. "Ann Arbor is progressive and it's a smart city."