Posted on
Thu, Apr 1, 2010 : 6 a.m.
Weather, more than anything, will determine size of this weekend's Hash Bash
By James Dickson
On Saturday, Ann Arbor will play host to the 39th annual Hash Bash. But while longtime emcee Adam Brook is confident that the stoner fest will draw a crowd, others, including former '60s activist John Sinclair, the man most identified with the Hash Bash, are more skeptical.
"The Hash Bash is a shell of its former self," Sinclair said. "In its heyday, the Hash Bash meant going to the Diag, sitting in drum circles and smoking pot together," Sinclair said. "There was no time limit - we went all day. Now you come and listen to speakers for an hour."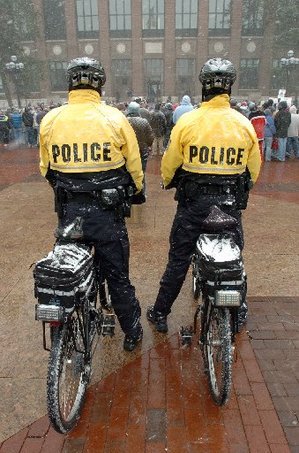 Lon Horwedel | The Ann Arbor News
The first Hash Bash, in 1972, was held as a celebration after the success of the 'Free John Now' campaign," the Michigan Daily writes. Sinclair was arrested in 1969 for giving two joints to the undercover police, and sentenced to 10 years in prison. He served 29 months, and became a cause celebre for the pot legalization movement, both locally and nationally. John Lennon famously headlined the "Free John Now" benefit concert at Crisler Arena in 1971.
"The Diag is the closest thing we have to a town square in Ann Arbor," Brook said. "If you had something to say, that's where you said it."
In its prime, the word-of-mouth gathering attracted more than 10,000 participants. Attendance dwindled in the middle of the decade but has rebounded over the last two years.
"You won't see the Hash Bash mentioned on the city's web site or the convention center web site," Brook said. "We don't even give the date, time or place on our web site. All the people who come out, that's all word-of-mouth."
This year's Hash Bash will be different than in the past.
The traditional protest march, from the federal building on East Liberty Street and South Fifth Avenue to the University of Michigan Diag, won't happen this year, Brook said. That's because there's little left to protest.
Medical marijuana is now legal in 13 states, including Michigan, which was the first midwestern state to legalize medical pot. There is also an effort afoot in California to legalize marijuana outright.
Last year, U.S. Attorney General Eric Holder announced that the federal government would not raid or prosecute marijuana growers or users acting in compliance with state law. Many of the major battles on marijuana have already been won.
"We don't have a beef with the feds," Brook said. "We don't have a beef with the city. We have nothing to protest."
This year the Hash Bash will meet at noon on the Diag, where the crowd will listen to an assortment of guest speakers.
At 1 p.m., hash bashers will depart the Diag for the Monroe Street Fair, which will feature music, vendors selling paraphernalia, and, according to Brook, "copious amounts of marijuana smoking."
Sinclair said that he'll be reading some of his poetry at the Monroe Street Fair and that he'll perform with the Macpodz Saturday night at the Hash Bash afterparty at the Blind Pig.
Diane Brown, spokeswoman for the U-M Department of Public Safety, said that the university is "not really" worried about the Hash Bash this year, though the event has seen a resurgence in recent years. As recently as 2007, Brown said, the Hash Bash drew a meager crowd of 250.
But upwards of 1,500 people attended the bash last year, according to DPS estimates. If the weather cooperates, that number could be surpassed this year, Brook said.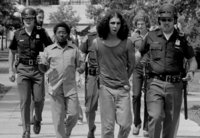 Brown cautioned Hash Bash goers not to view the gathering as an amnesty day for smoking pot on campus. "Our officers enforce state law, not the Ann Arbor statute," Brown said.
Under Michigan law, first-time smokers can be sentenced to up to one year and prison and a $2000 fine. But in Ann Arbor, first-time smokers are charged with a civil misdemeanor and given a $25 ticket. Repeat offenders must pay $50 the second time and $100 for each subsequent ticket.
As such, Brown said, attendees of the Monroe Street Fair would be wise to avoid illegal activity on the north sidewalk near the Law Quad, which is University property.
Brown added that public safety officers will handle smoking by registered medical marijuana patients on a case-by-case basis. "This is a not a free-for-all," Brown said.
Retailer response to the Hash Bash is mixed.
42 Degrees, a downtown headshop on E. William, will offer grab bags for the Hash Bash, but will reserve its discounts for April 20, when most pieces in the shop will go for 20 percent off.
Stairway to Heaven, another downtown headshop on State Street, was more tight-lipped, saying nothing more than that it will offer a "surprise" for its guests on Saturday.
Gro-Blue, a supplier for "indoor gardening" tools for would-be marijuana growers, will have staffers on the Diag, offering discounts to customers who patronize the shop on West Liberty Street.
Sinclair and Brook might disagree on the viability of the Hash Bash at this point, but both men agree that weather, more than any other factor, will determine the size of Saturday's crowd.
"There's a misconception that the Hash Bash has fallen off, that people just aren't interested," Brook said. "But weather is the biggest factor, especially for patients who have a tough time moving around in colder weather.
"Put it this way: If it's 50 degrees at 10 a.m., the Hash Bash is going to be huge," Brook predicted. "If it's 20 degrees and 50 is going to be the high, it'll be tough. We're just hoping the weather cooperates."
Ann Arbor is expected to have a high of 76 degrees on Saturday, with a low of 48.
James David Dickson can be reached at JamesDickson@AnnArbor.com.