Posted on
Thu, Feb 9, 2012 : 6:04 p.m.
Hazmat crews investigate situation at Circle K station on Stadium Boulevard
By Danielle Arndt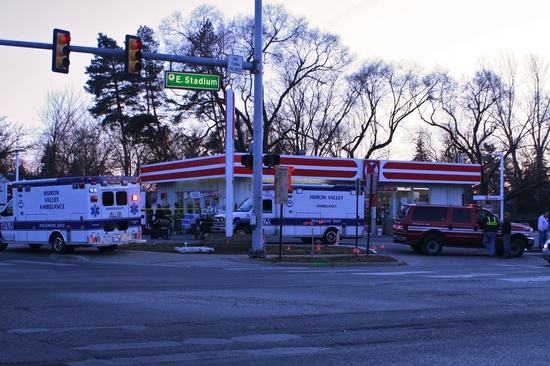 Jessica Webster | AnnArbor.com
Crews from the Washtenaw County Hazardous Materials Response Team are at the Circle K gas station at the intersection of Stadium Boulevard and Packard Road and have closed down the area.
Ann Arbor Fire Department and Ann Arbor Police Department officials were unable to comment immediately Thursday afternoon on what caused the need for the crews at the gas station.
Personnel at the scene Thursday evening were unable to give information.
Two Huron Valley Ambulance crews, four Washtenaw County HazMat teams and an Ann Arbor Fire Department HazMat crew were responding to the gas station just after 6 p.m. Thursday.
Washtenaw County Sheriff's Office spokesman Derrick Jackson said he spoke with Marc Breckenridge, county director of emergency management, about the incident. The situation did not appear to be too serious and it was likely that some suspicious residue had been found, Jackson said.
The county's hazmat crews left the area just before 7 p.m. Thursday, with just one vehicle each from the Ann Arbor police and fire departments left behind. Officials from the Ann Arbor Fire Department were unable to be reached Thursday evening to get more details.
Check back to AnnArbor.com as we find out more about this incident.
Crime reporter Kyle Feldscher contributed to this story.