Posted on
Wed, Jun 13, 2012 : 5:56 a.m.
Ann Arbor asked to commit $20K toward Washtenaw County's accessible health care initiative
By Ryan J. Stanton
Washtenaw County has the potential to be a model for communities across the United States when it comes to ensuring its residents have access to health coverage.
That was the message leaders of the Washtenaw Health Initiative delivered to the Ann Arbor City Council during a special work session Monday night.
Norm Herbert, retired treasurer for the University of Michigan and one of the initiative's leaders, made the sales pitch, asking the city to become a charter member in the WHI and contribute $20,000 — $10,000 this year and $10,000 next year.
The WHI is a volunteer group working to prepare the Ann Arbor area for the implementation of federal health care reforms under the Affordable Care Act in 2014. It's a countywide collaboration of leaders focused on making sure health care becomes more accessible, with improved care coordination for the low-income, uninsured, and Medicaid populations.
"This financial request is to support the opportunity for the WHI to retain CHRT, the Center for Healthcare Research and Transformation, and importantly their facilitation for this entire process, as well as the type of research they're able to do," Herbert said.
Ann Arbor would join 32 other organizations that already have agreed to be charter members, including Washtenaw County, the Ann Arbor Area Community Foundation, University of Michigan Health System, St. Joseph Mercy Health System, United Way, VA Ann Arbor Healthcare System, Washtenaw Health Plan, and several others.
Herbert said the front sponsors of the initiative, U-M and St. Joseph Mercy, have been generous in their willingness to support the WHI.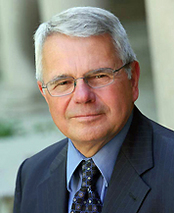 "But they also consider it critically important that the community's engagement be demonstrated with financial support," he said.
Mayor John Hieftje said the City Council would consider a resolution to join the initiative and appropriate the $20,000 at its first meeting in July.
The initiative started in January 2011 with a focused on both today's needs and preparing for the expansion of Medicaid and health insurance exchanges in 2014.
"Some of the impetus around this effort was because of the health care reform that was coming in 2014 and the idea that we need to be prepared," said Marianne Udow-Phillips, director for the Center for Healthcare Research and Transformation at the University of Michigan.
Udow-Phillips said there isn't enough primary care capacity in Washtenaw County to serve the Medicaid population that could grow significantly in 2014.
"We'll see what happens when the Supreme Court rules," she said. "But even without the Affordable Care Act, we know we need to do a better job today."
CHRT has facilitated the steering committee, planning group and work group meetings and developed an overall work plan.
Six recommendations are in the implementation phase:
1. Expand primary care access for the target population by working with the local health systems and safety net providers
2. Add additional providers and hours to the Community Dental Center to increase access to acute dental care
3. Work with community dentists on a reduced-fee referral program for low-income adults
4. Locate two Department of Human Services workers at the Washtenaw Health Plan to facilitate Medicaid enrollment
5. Implement a community outreach initiative to increase enrollment in Medicaid
6. Develop a countywide protocol for acute substance use services to improve assessment and treatment of patients
Four recommendations are in the planning stage:
1. Implement a pilot program to improve coordinated care for patients in safety net settings
2. Implement an outreach initiative with Blue Cross Complete to connect members to primary care providers and community resources
3. A care management program to improve access to mental health care and to support primary care physicians
4. Work with the state of Michigan to help test new eligibility processes as part of health care reform
Udow-Phillips said leaders of the Washtenaw Health Initiative have been in discussions with state officials and have offered Washtenaw County as a pilot to test the new health insurance exchanges that will allow people to shop for insurance and compare health plans.
"They are very excited about doing that," she said. "We've actually also had some discussions in Washington about having Washtenaw County as a pilot for some of these new ways of getting people enrolled. We have lots of people in the county who want to volunteer to help, and to do that we think would be a great service we could provide to the state."
Also at Monday's meeting were two other leaders of the initiative: former County Administrator Bob Guenzel and Bob Laverty, the former CEO of St. Joseph Mercy Hospital.
Guenzel said the Washtenaw Health Plan already covers about 8,000 local residents who otherwise wouldn't have health insurance.
"That's funded through a complicated way of leveraging local dollars to the feds and the to the state and in very close cooperation with the two hospitals," he said. "But we always thought we could do better as a community."
Guenzel said that's where the WHI comes in.
The initiative's leaders say it will fall to local providers and community groups to cope with the demands of increased Medicaid enrollment and to help patients better navigate the health care system after more provisions of the Affordable Care Act go into effect in 2014.
As many as 23,866 people currently uninsured in Washtenaw County could become insured via Medicaid or health insurance exchanges, according to the WHI.
About 69.9 percent of county residents had private health insurance in 2010, 11.7 percent were covered by Medicare and another 11.3 percent were covered by Medicaid.
Another 2,719 were eligible for Medicaid but not enrolled, and an estimated 28,864 were uninsured in 2010, according to the WHI.
Of those, about 13,138 are expected to be newly eligible for Medicaid in 2014 and 10,728 of those remaining will be eligible for subsidies to purchase private insurance through a new state health insurance exchange. That leaves nearly 5,000 currently uninsured people who would remain ineligible for Medicaid or tax credits in 2014.
In regard to Medicaid enrollment, WHI leaders noted there were more than 55,000 total public assistance cases in progress in Washtenaw County in January with just 59 workers. While the reforms in 2014 will simplify some parts of the Medicaid eligibility system, they say, it also will bring an influx of new enrollees that will place increasing demands on the system.
It's also estimated there could be as many as 53,239 additional primary care visits annually in Washtenaw County, a demand WHI leaders say is not likely to be absorbed easily.
While the county has major health care systems and 983 primary care providers, as well as more than a dozen safety net clinics providing essential services to the uninsured, WHI leaders say many in need are not getting optimal care today, and a significant increase in the Medicaid population in 2014 will only increase pressure on the delivery system.
Udow-Phillips said an early focus of the initiative has been getting more people enrolled and eligible for Medicaid. She said the effort has been supported by the county office of the Michigan Department of Human Services and the Washtenaw Health Plan.
"They've partnered together and worked with us to change the way we do enrollment in our county," she said. "And we've actually gotten a letter of support from the governor because it is the kind of initiative that should be done across the state to get more people enrolled."
In a three-month period, she said, they were able to enroll or keep enrolled about 1,000 people who otherwise wouldn't have had coverage.
Dental care and mental health also are big focuses.
"Dental care is a huge problem because even the people who have Medicaid, which has very good coverage for dental care, very few dentists take Medicaid," Udow-Phillips said. "And so we've been working on ways to get expanded access to those services."
Ryan J. Stanton covers government and politics for AnnArbor.com. Reach him at ryanstanton@annarbor.com or 734-623-2529. You also can follow him on Twitter or subscribe to AnnArbor.com's email newsletters.