Posted on
Fri, Jul 15, 2011 : 5:59 a.m.
Historic District Commission rules new fence in Ann Arbor's Old West Side must come down
By Ryan J. Stanton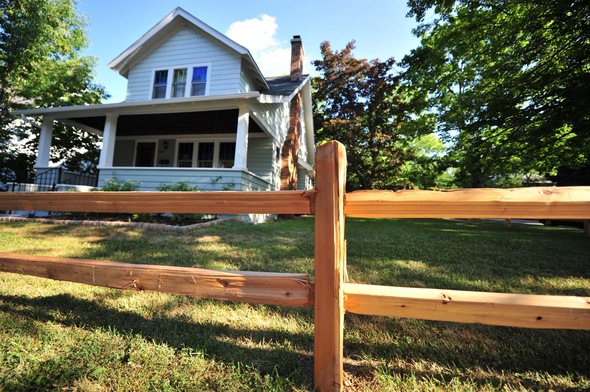 Ryan J. Stanton | AnnArbor.com
A half-hour hearing inside city hall Thursday night wasn't enough to convince the
Ann Arbor Historic District Commission
to allow a homeowner to keep a new fence on his property. The verdict: It doesn't belong in the city's
Old West Side Historic District
.
Louis Breskman, who lives in a 1920s-era house at 617 W. Madison St. with his fiance, Meredith Newman, now has 90 days to take down the wooden, split-rail fence he had installed for about $1,200 last month and restore the property to its previous condition.
"The great joy of the neighborhood is that it has retained its historic character, and that's what our guidelines are intended to do," said HDC Chairwoman Ellen Ramsburgh. "I don't think the fence is appropriate, and I'm sorry that we're acting on it after the fact, but that's as it is."
The HDC voted 5-0 to reject Breskman's application for a certificate of appropriateness, with commissioners Patrick McCauley, Ben Bushkuhl, Robert White and Kristina Glusac joining Ramsburgh in deciding the fence doesn't fit in the historic neighborhood.
"One of the first things you see when you walk up to the house is this split-rail, rustic, farmhouse-type fence," McCauley said. "And it just does not look appropriate, I don't think."
Breskman and his fiance appeared before the HDC along with an attorney to plead their case. They left disappointed in the outcome and said they were uncertain of their next steps.
Jill Thacher, the city's historic preservation coordinator, advised the HDC that split-rail fences in front yards are incompatible with the historic character of the neighborhood and should not be allowed. She said Breskman can submit a new application to install a fence in a design that is appropriate for the district.
Thacher said a fence with square or flat pickets with at least 50 percent opacity would be a more appropriate design.
Breskman said he's not sure he wants "tangle" with the HDC again, though. He noted there already was a worn-out, wooden, picket fence on part of the property that was taken down to make way for the new fence, and he doesn't like that style.
According to the historic district design guidelines Ann Arbor follows, when installing new fencing it's appropriate to use wood (either picket or alternating board), wrought-iron or metal (wrought-iron style) or chain link (rear yards only). Thacher said this was the first time the HDC had ever considered whether to allow split-rail fences in the Old West Side.
According to Thacher, city staff received reports from three different neighbors last month about a fence being built without permits. A city building inspector visited the site and found a split-rail fence had been installed along the Fifth Street sidewalk on the corner lot.
In addition to not getting a required certificate of appropriateness from the HDC before installing the fence, Breskman also failed to secure a zoning compliance permit.
The building inspector issued a stop work order. But over the weekend, the rest of the fence was installed along West Madison.
City officials say Breskman potentially faces a civil infraction or misdemeanor for violating the stop work order, but that hasn't been issued yet.
During the course of her staff investigation, Thacher said she went through 200 or more old photographs of Ann Arbor and discovered that post-and-rail fences similar to the one installed on Breskman's property definitely existed in the city at one time.
"This is a very old style of fence, but it was predominant before the turn of the 19th century," she said, adding the fences were around in the 1800s from the founding days of Ann Arbor, through the Civil War, and up to the turn of the century.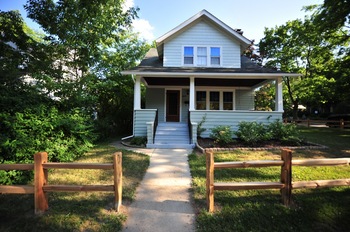 Ryan J. Stanton | AnnArbor.com
"This was a pretty common post-and-rail style of fence that was used to enclose livestock," she said. "I have several 1880s and '90s photos showing panoramas of Ann Arbor, and you see larger yards with areas to enclose animals — large animals, horses, cattle, whatever."
She said those types of fences were not as predominant after the turn of the century because the land was getting subdivided more and lots became smaller. She said most fences closer to downtown on small residential lots were picket style and photographs prove that.
Breskman's one-and-a-half-story, Craftsman-style home first appears in the 1927 city directory as the home of Emil Hoppe, an employee of the phone company and a student.
"I'm not saying there was never a split-rail fence on a newer home built in the '20s," Thacher told commissioners Thursday night. "Because that could certainly be a throwback to old styles, but clearly it was predominant to have picket-style fences — either wood or metal — on residential lots. Especially since this house was not built until 1926."
Thacher acknowledged split-rail fences made a comeback in Ann Arbor during the post-World War II suburban housing boom. But that still doesn't make it appropriate, she said.
She cited federal guidelines that say new construction in historic districts that is "visually incompatible" or "destroys historic relationships within the setting" is not recommended.
White, one of the five commissioners to turn down Breskman's application, said he wished there was a way the new fence could be retrofitted to make it compatible.
"Right now, it's there, and I don't like the economic waste," he said, going on to inform Breskman that things could have been different if only he lived across the street.
"Right across the street from you on the west side, they could have your fence, because you're in the historic district and they're not," he said. "That's the cutoff point."
Commissioner Bushkuhl said he personally visited the property and he's sympathetic. He said Breskman and his fiance have taken care of the house nicely.
"It's a nice installation of this kind of fence," he added. "They did a good job."
But, he said, it still just doesn't fit.
"I drove through the neighborhood and looked around, you don't really see these fences on front yards of any houses," Bushkuhl said. "And any house that you would see it is not in a historic district, which is an important distinction to me."
Commissioner McCauley offered his take on the situation, saying there's a large distinction between fences in front of a house and those on the more private sides of a house.
"Within the period of significance with this historic district, these types of fences — even if they existed on the Old West Side — never, ever would have been in the front of the house," he said. "That is the public side. It would have had a more refined picket fence."
Even if a property owner had a stockyard full of animals, he said, it would have been in the back of the house and it would have been out of public view as much as possible.
"A fence like this might be more appropriate in a farm-type setting — a rural historic district," he said. "It doesn't necessarily fit into an urban neighborhood historic district."
Joy Glovick, an Ann Arbor-based attorney representing Breskman and his fiance, argued the fence does fit in with its surroundings.
"The fact is that there are split-rail fences around the area," she said, adding there even are some chain-link fences in the historic district, as well as split-rail fences at a nearby park. "How does this fence not fit in with the park that's nearby?"
Thacher said some of the fences mentioned are not actually in the historic district, and others were installed prior to the adoption of the city's current historic preservation ordinance in 2007. She said that's the case with the split-rail fencing at Wurster Park.
Ramsburgh asked Breskman if he was aware his property was located in a historic district when he decided to put up the fence. He said he was aware, but he didn't think it would be an issue since another property two blocks away had a similar fence.
Glovick said she thinks a picket fence would be more obstructive. She noted her clients planned to grow climbing plants on the fence, so it would end up looking like "one big shrub."
"It's not a chain-link fence," Glovick added. "It does have historical precedence. Whether or not it's appropriate for 1927, I mean, that's a little bit restrictive. They clearly existed before then. They were put up after that point. How is that not historically correct?"
Ryan J. Stanton covers government and politics for AnnArbor.com. Reach him at ryanstanton@annarbor.com or 734-623-2529. You also can follow him on Twitter or subscribe to AnnArbor.com's e-mail newsletters.