Posted on
Sun, Mar 28, 2010 : 10:51 p.m.
Street Soccer Project Outreach Team raises money in game against Washtenaw County Sheriff's Office
By John Garcia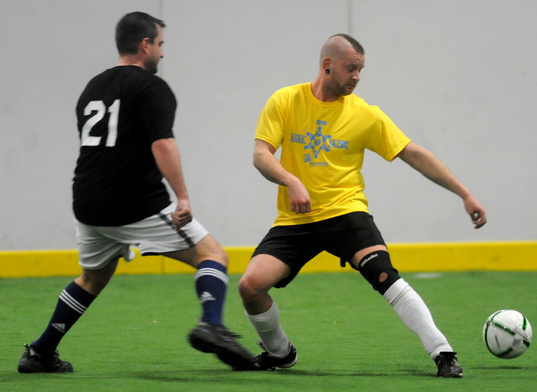 Melanie Maxwell | AnnArbor.com
The Washtenaw County Sheriff's Office soccer team may have beat the Street Soccer Project Outreach Team Sunday by a score of 9-5, but that will only help the SSPORT team get to the Homeless U.S. Cup.
In the second annual "Beat the Streets with Soccer," the WCSO and SSPORT raised money for SSPORT's trip to Washington D.C. to compete in the U.S. Homeless Cup.
The WCSO team is comprised of people who work for the Washtenaw County Sheriff's Office, while the SSPORT team is made up of people who are either currently or formerly homeless.
Last year, the event raised $2,300. This year, there were plenty of raffle items - including clothes, jewelry, food and even a tattoo gift certificate. 
The event also provided a chance to have fun and an environment where some homeless and police officers could socialize.
"Now, if somebody calls on them and I get there, there's another option, I may know who he is or might know he belongs over here. Now we have a better idea of who to call and where to take him to get some help," said Deputy Ray Yee, who played on the WCSO team.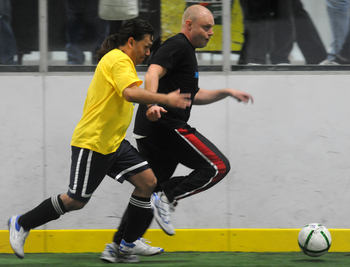 Melanie Maxwell | AnnArbor.com
Many of the players on the team, which will compete July 30 to Aug. 2 in the Homeless U.S. Cup, didn't play soccer before. But now, they use it as means to have fun and maintain a positive attitude in an often bleak environment.
"You get to learn to not be full of rage and learn to take it in stride, you learn to be kinder and learn as a team. There's a lot of that when you're over at the shelter because you got people there who don't try to benefit by doing anything, and they try to bring you down," said Andrew Valdez, who used to be homeless and is now a full-time student at Washtenaw Community College.
Sam Mejia started playing street soccer when he was homeless. Mejia is now a mechanical engineering student at the University of Michigan and wasn't too concerned about his team's loss.
"I didn't know how to play when I started. It was for fun to get the stress out of my brain," Mejia said.
The players on the team will have an opportunity to be selected for a national team and play for the U.S. at the Homeless World Cup in Rio De Janerio, Brazil. For players to be selected for the national team, they must be good soccer players and also demonstrate how street soccer has helped them.
"It's skill level, but skill is not the most important thing," said Linda Bacigalupi, who coaches the team along with Sara Silvennoinen. "First, they look at the person's story, how far they've come and whether or not participating in soccer has really been a part of improving their life or getting them in the direction that they need to go. So how much progress they've made and their teamwork and good sportsmanship are all factors."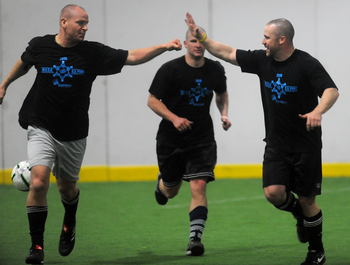 Melanie Maxwell | AnnArbor.com
Bacigalupi said Mejia was selected for the national team last year but couldn't compete because of an injury.
Silvennoinen and Bacigalupi both work for the Project Outreach Team, a group that actively seeks out homeless and mentally ill in Washtenaw County to provide them with help and resources. Silvennoinen started the street soccer team after discovering similar teams around the world.
"It started off kind of randomly. I was traveling to Finland and it started off as a comment in the office, and I looked up homelessness in Finland and the first website that popped up was the homeless world cup," Silvennoinen said.
Bacigalupi said they were particularly impressed by learning 75 percent of the people who participated in the world cup found housing.
"... there were really large numbers of people who connected with services, so we thought that if we implemented the program locally, that we could do that for some people here," Bacigalupi said.
For more information on Project Outreach Team, visit: www.a2port.org. To donate to team SSPORT, send a check to: SSPORT P.O. Box 8645, Ann Arbor MI, 48107
For more information on the Homeless World Cup, visit: www3.homelessworldcup.org.

John Garcia is a freelance writer for AnnArbor.com. Reach the news desk at news@annarbor.com or 734-623-2530.