Posted on
Thu, May 5, 2011 : 9:26 p.m.
House Republicans approve education budget with deep cuts to schools, colleges and universities
By Ryan J. Stanton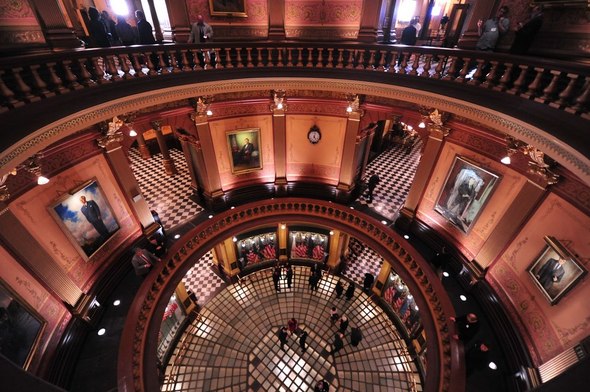 Ryan J. Stanton | AnnArbor.com
Public schools, community colleges and universities were dealt the blow they feared tonight as the
Michigan House of Representatives
approved a $13.8 billion state education budget.
Like other recent budget decisions, the 57-53 vote to cut education spending fell along partisan lines without a single Democrat supporting the measure.
Six Republicans also voted against it.
State Reps.
Jeff Irwin
, D-Ann Arbor, and
David Rutledge
, D-Superior Township, issued a joint statement blasting the GOP for passing a "destructive education budget plan."
Under the plan, which now heads to the Senate, community colleges and state universities would be cut by about 15 percent and Michigan's K-12 schools would see cuts of at least $426 per student, with some school districts being hit with even larger cuts.
State Reps. Rick Olson, R-York Township, and Mark Ouimet, R-Scio Township, voted in favor of the cuts. Ouimet called the House-approved plan "a positive step in the right direction."
"These were tough but necessary decisions," Ouimet said. "We spend a massive amount of taxpayer dollars on schools, and rightly so, but the school aid budget cannot be held harmless when the state has a $1.4 billion deficit."
Rutledge called the plan "unconscionable."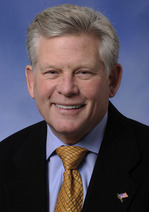 "Michigan cannot afford to slash public education like this, without seriously compromising our future," he said. "Schools have been cut to the bone, and beyond, and communities are already feeling the effects. These deep cuts could devastate already struggling districts, and to make them at a time when the school aid fund is running a surplus is shameful."
Gov. Rick Snyder's original budget called for a $470 per-pupil cut in funding for K-12 schools.
The Senate recently passed legislation reducing the cut to $340, which means the House bill likely won't pass through the upper chamber as it stands and differences will have to be ironed out.
Irwin noted the education cuts follow a House-approved budget that eliminates or reduces programs like Meals on Wheels, clothing allowances for poor children, libraries, medication for the mentally ill, and economic development and job training programs.
"At a time when our citizens are calling for shared sacrifice, there is plenty of sacrifice, but precious little sharing," Irwin said.
Ryan J. Stanton covers government and politics for AnnArbor.com. Reach him at ryanstanton@annarbor.com or 734-623-2529. You also can follow him on Twitter or subscribe to AnnArbor.com's e-mail newsletters.