Posted on
Thu, Jun 3, 2010 : 3:26 p.m.
Humane Society takes 18 dogs from Ypsilanti Township home
By Tina Reed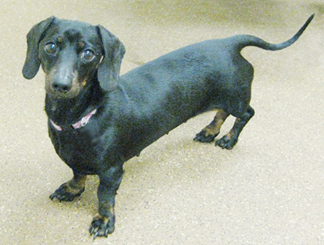 Courtesy | Huron Valley Humane Society
Local Humane Society officials took 18 dogs from an Ypsilanti Township home Tuesday after they discovered the dogs living in "cramped and filthy conditions" inside the home with a couple and their infant.
Humane Society of Huron Valley animal cruelty investigators received an anonymous call about a "foul smell" coming from the home and found 21 dogs of different breeds living there.
"The caller believed the home might have contained deceased animals," Matt Schaecher, lead cruelty investigator, said in a release. "Some of the dogs were dehydrated, and several were pregnant. Three dogs were allowed to stay with the family but the other 18 have been brought to (the Humane Society of Huron Valley)."
The residents cooperated with investigators, and no criminal charges are anticipated at this point, said Deb Kern, a spokeswoman for the Humane Society. None of the dogs had to be euthanized.
The home has since been condemned, and child protective services will be investigating the situation, officials said.
"This is a reminder of the many ways in which animal cruelty and child abuse and neglect intersect," Tanya Hilgendorf, executive director, said in a statement. "The parents in this situation chose to have this many animals in their home but clearly could not manage their care. As such, the conditions of the home became a health threat to everyone living there, but particularly to the infant."
The dogs included Yorkshire terrier mixes, Shih Tzu mixes, Basset Hounds, Dachshund mixes and a few Chihuahuas, including one that gave birth to three puppies Tuesday evening, officials said. A Great Dane was also among the dogs and is being treated for what looks like hip dysplasia, the release said.
The dogs are in pretty good condition considering they were living in such bad conditions, Kern said.
Many of the dogs will be available for adoption by Friday or Saturday. They'll have a full medical review, vaccinations and will be spayed or neutered before they go to a new home. Some of the dogs will need to go to experienced dog owners because they have not been given proper training or care, the Humane Society said in a release.
To learn more about the dogs or how to adopt, call the Humane Society at 734-662-5585 or visit its website at www.hshv.org. The adoption center, 3100 Cherry Hill Road, is open from noon to 6 p.m. daily.
Tina Reed is a reporter for AnnArbor.com. She can be reached at 734-623-2535 or by emailing her at tinareed@annarbor.com.