Posted on
Tue, Apr 10, 2012 : 5:57 a.m.
Huron High School students send cards to World War II veteran carjacking victim
By Danielle Arndt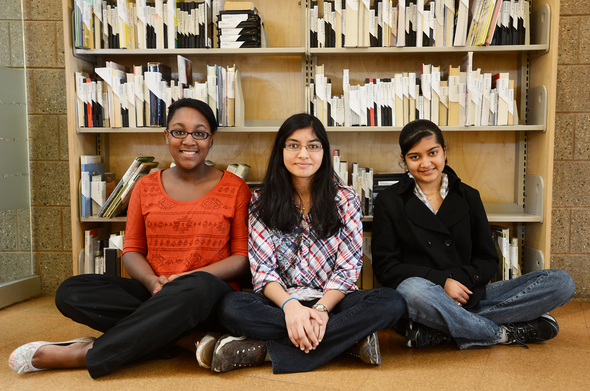 Melanie Maxwell I AnnArbor.com
A group of
Ann Arbor
high school students is reaching out to support a
World War II
veteran
who was carjacked
at a
Detroit
gas station.
Kimi Shah, a junior at Huron High School, started a youth volunteer club in February called Huron Homefront Hugs, an offshoot of the locally based Homefront Hugs USA.
Ann Arbor resident Alessandra Kellermann launched the national organization one month after Sept. 11, 2001.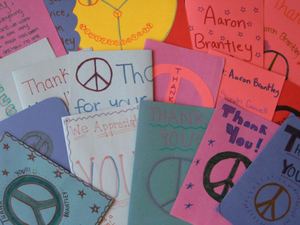 Courtesy photo
While other adult-run groups committed to aiding past and present military families have emerged from the Homefront Hugs organization, the teen group at Huron is just the second youth club in the country. Kellermann's son started the first at
Slauson Middle School
in Ann Arbor.
According to its website, Homefront Hugs has 10,000 active members and 50,000 total members nationwide.
Shah discovered Homefront Hugs while researching volunteer opportunities on the Internet. She was drawn to the group because of her goal to someday serve as a doctor or psychologist in the United States Air Force.
Additionally, she said the group fills a void at Huron High School, which only has a few community service organizations and none catered specifically to helping veterans.
However, Kellermann said the organization was created to do anything in the community that relates to freedom. And it is not a requirement for volunteer groups affiliated with Homefront Hugs to reach out to the military, she said.
"It's only if they want to because there definitely is a need there," she said. "The biggest thing we are trying to teach is peace and love. And to stop prejudice and fear."
Shah and her friends launched the club at the start of second semester. Shortly thereafter, she heard on the news how Aaron Brantley, an 86-year-old WWII Air Corps veteran, was carjacked while filling his gas tank at a BP station on Detroit's west side.
"When he got carjacked, he was on the ground with a broken leg and people just walked around him," said Alicia Johnson, a sophomore at Huron and the club's vice president.
"It touched and saddened us that no one would help him after this terrible thing," said Shah, president of the group. "We wanted to send him our blessings."
The club decided Brantley would be its first project. A group of about 30 high school students met to craft homemade cards for Brantley, thanking him for his service in WWII.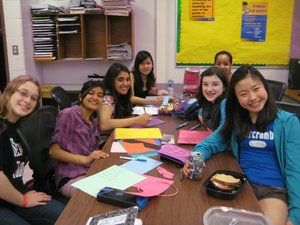 Courtesy photo
"We wanted to send him personalized messages to make sure he knows we're thinking of him and appreciate his service," said
Amy Shah
, a freshman.
Kellermann is collecting the cards. They have not been mailed yet because they are still coming in from all across the country, she said. Kellermann reached out to other offshoots to participate in the Brantley project. Slauson Middle School also is working on cards.
"I was really surprised that Huron High School got theirs done already," Kellermann said. "We are lucky to have the leader that we do at Huron. (Kimi Shah) is amazing, takes initiative and is bright and confident."
Huron Homefront Hugs meets on the second Tuesday of each month. However, when members are working on a project they will meet more frequently, Kimi Shah said.
The group's next project will be a jeans and shoe drive for the VA Ann Arbor Healthcare System. Huron club members also will be setting up small gatherings with students and veterans at the VA hospital.
"The volunteer heads told us the veterans really appreciate fresh, new faces," Kimi Shah said.
"It's like when we go to visit our grandparents, they feel really happy to talk to us," Johnson said.
She added the group's goal is to generate enough interest in the Homefront Hugs club and in caring for local veterans that the group will continue on even after its current leaders graduate.
"It gives you a good feeling inside to reach out to people, especially veterans who fought for us," Amy Shah said.
Among the missions and services Homefront Hugs USA provides are: Operation Healing Angel for wounded soldiers and their caregivers; Homefront Hero Hugs, an adopt-a-troop program; Homefront Orphan Hugs, giving troops items to aid orphans in the war zone; and Homefront Welcome Hugs, an airport greeting program.
For more information, visit the organization's website.
Staff reporter Danielle Arndt covers K-12 education for AnnArbor.com. Follow her on Twitter @DanielleArndt or email her at daniellearndt@annarbor.com.