Posted on
Fri, Mar 30, 2012 : 11:45 a.m.
German who police say made threats to kill his wife arrested after flight to U.S.
By Paula Gardner
A German engineer who police say made threats to kill his wife was arrested this month by Pittsfield Township Police as he deboarded a plane at Detroit Metropolitan Airport, the Detroit Free Press is reporting.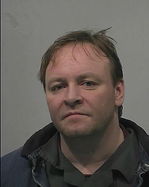 From WCSO
Martin Buerkle, 41, is being held in the Washtenaw County Jail, where he's also accused of attacking an employee days after his arrest.
His wife lives in Pittsfield Township, and he threatened to kill her and himself, according to the report.
Update at 3:17 p.m.: The Washtenaw County Sheriff's Office says Buerkle made self-inflicted cuts to his neck and wrist, so he was transported to St. Joseph Mercy Hospital for medical care. During transport, he was combative, according to spokeman Derrick Jackson.
"While corrections staff attempted to gain control of Mr. Buerkle a struggle ensued," he said in an email. During the struggle, Buerkle had to have his hands pried from the holster of the officer's weapon.
The officer was not injured. Buerkle was charged with assault of prison employee, Jackson said.