Posted on
Mon, Sep 10, 2012 : 2:59 p.m.
'I'm Shmacked' YouTube video spotlights University of Michigan student drinking
By Cindy Heflin
University of Michigan students are the latest to star in a series of YouTube videos featuring lots of footage of young people drinking and dancing and drinking and laughing and drinking and … well, you get the picture.
The video, called "I'm Shmacked the Movie: University of Michigan Welcome Week," was made over the Labor Day weekend, the end of the traditional period for welcoming freshmen to campus.
Its creators are college students themselves, Arya Toufanian, a junior at George Washington University in Washington, D.C., and Jeffrie Ray, a sophomore at the School of Visual Arts in New York City. They're visiting colleges all over the country making "I'm Shmacked" videos. They also stage "I'm Shmacked" live events featuring music and dancing, some of which help raise money for charity.
Their goal, beyond their broader business aspirations is, to "capture what makes that school that school," Toufanian said in a phone interview Friday.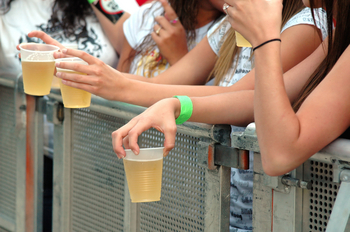 Katseyephoto | Dreamstime.com
So, is a lot of partying and drinking the thing that defines U-M? No, Toufanian said. He pointed to the soundtrack for the video. It's the song "Work Hard, Play Hard" by rap artist Wiz Kalifa. Toufanian said that's what U-M students do.
If they want to kick back on the weekend after working so hard on the weekdays, who's to blame them? Toufanian said. He and his partner, who visited U-M last year for the Nebraska game, do mix in shots that show other aspects of campus life, but since they're appealing to college students there's a limit to how much of that they can do, he said.
"We're trying to appeal to a market and no one wants to watch a video of kids playing board games and sitting in dorms," he said.
He stressed that he and his partner, who visited U-M the same weekend several fights sent people to the hospital in Ann Arbor, don't supply any alcohol or drugs (the video also shows fleeting glimpses of what appears to be marijuana) and don't encourage drinking or drug use.
"We're tourists and whatever they show us is what we film."
Toufanian said he and his partner, who hope to eventually land a movie, TV series or book deal for the I'm Shmacked brand, have gotten some criticism because of their videos, at least partly because of the name.
The website Urban Dictionary lists a few definitions for "shmacked," all of them having to do with being extremely drunk or high, but Toufanian said that's not what their use of the term means at all. I'm shmacked is just a name they came up with for the company and doesn't mean anything other than to have a good time, he said.
"Kids know that it's harmless and parents think that it's the devil," he said.
The official University of Michigan response is a bit less dramatic. "It's disappointing that someone would take advantage of these situations to create these videos that have no redeeming social value," said U-M spokesman Rick Fitzgerald.
But Toufanian said they're not taking advantage of anyone. He said he and his partner talk with the people in the videos about what they're doing before they film and if someone who is in the video sees it and doesn't want to be in it, they'll edit that person out. And he said if they see people doing outrageous things, they'll stop them.
In the meantime, the "I'm Shmacked" tour rolls on. A video made filmed last week at the University of Alabama will be posted Tuesday, Toufanian said. He and Ray are visiting at least one college every seven days and sometimes two, he said. They plan to visit Michigan State University in October.
You can watch the video below, but be forewarned, the Wiz Kalifa song contains potentially offensive language, including racial terms and profanity: