Posted on
Fri, Nov 9, 2012 : 5:59 a.m.
Interfaith Council for Peace and Justice asks group to end weekly picket outside synagogue
By Janet Miller
Editor's note: This story has been updated to reflect that Henry Herskovitz did receive a letter from the interfaith council asking his group to stop the demonstrations. He originally said he never received it.
An interfaith religious organization Thursday publicly asked a group of protesters to end its weekly demonstrations outside an Ann Arbor synagogue.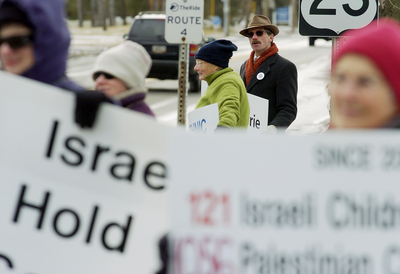 Ann Arbor News file photo
While no one is claiming the Saturday morning protests by
Jewish Witnesses for Peace and Friends
are illegal, they are harassing to members of the
Beth Israel Congregation
, said Chuck Warpehoski, director of the
Interfaith Council for Peace and Justice,
which issued the statement Thursday.
While ICPJ over the years privately asked Henry Herskovitz, a founder of Jewish Witnesses for Peace, to stop the protest, this is the first time the group has made a public statement, Warpehoski said.
Herskovitz disagreed that the Saturday morning vigils are harassing. "There are laws against harassing in the state. We are not harassing," he said.
But he also said Jewish Witnesses for Peace, which calls itself a Palestinian solidarity group, has no plans to stop the protests.
While Herskovitz initially said he did not receive the ICPJ letter asking him to curtail the protests, Friday morning he said he had found the letter, sent in early October, in a pile of mail. The protest, he said, "is to raise awareness of Israel's crimes." Herskovitz is a former member of the Beth Israel Congregation.
Until now, ICPJ, a 47-year-old nonprofit organization, has wanted to avoid "feeding the attention-seeking behavior of the protesters," Warpehoski said. But there was a shift in attitude and the ICPJ Steering Committee wanted to show support to the congregation, he said. "It's become clear that this is religious harassing and it is our duty to be allies with those who are being targeted. What they are doing is hurtful and counterproductive."
Rabbi Robert Dobrusin said he and his congregation appreciate the ICPJ support. "It's upsetting when people have to walk past signs that are accusatory and insulting," he said. "It puts people in a completely different state of mind on the Sabbath."
Still, the members of his 460-family congregation continue to come, he said. "Our place is still filled every Saturday. It's not keeping people away."
The low-key approach left the members of the synagogue feeling isolated, Warpehoski said. Jewish Witnesses for Peace has done more than just protest, he said.
"They have circulated writings claiming that Jewish religious observances turn Jewish boys and girls into monsters. It is abhorrent that someone would disseminate such blatantly anti-Semitic propaganda. The time has long come for the group to stop."
Herskovitz said the protests began in 2003 after he was denied permission to speak to the congregations of local synagogues after he visited the Middle East.
The protest, which draws between five and 10 people each Saturday, is held as worshippers enter the synagogue. Protesters carry signs that read "Ethnic Supremacism: Wrong in Germany. Wrong in Israel," "Israel is the Villain, Not the Victim," "Stop Aid to Israel" and others.
Janet Miller is a freelance writer for AnnArbor.com. Contact the news desk at news@annarbor.com or 734-623-2530.