Posted on
Thu, Apr 5, 2012 : 10:58 a.m.
Properties owned by jailed Ypsilanti landlord David Kircher put up for sale
By Tom Perkins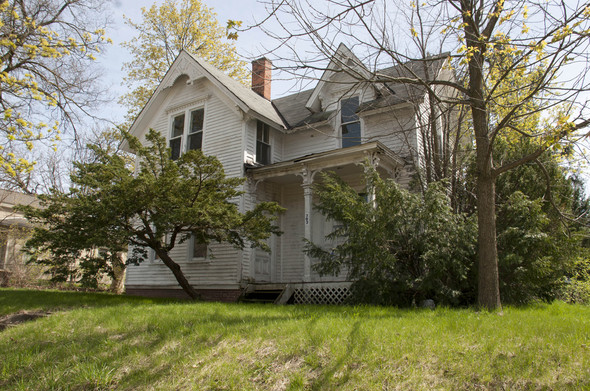 Tom Perkins | For AnnArbor.com
Jailed landlord David Kircher's Ypsilanti and Ypsilanti Township homes are on the market.
Colliers International is asking $947,000 for a portfolio of around 35 properties. The catch: many are condemned, in serious disrepair or are now vacant lots where homes were demolished.
Kircher filed for Chapter 11 bankruptcy in Detroit in February, and on March 7 a judge approved a motion to appoint a trustee to oversee Kircher's assets.
Kircher is serving a five-year term state prison in Jackson for illegally diverting raw sewage into the Huron River via a public sewer from the Eastern Highlands apartment complex he owned in 2004.
Tom Perkins | For AnnArbor.com
Colliers' Jim Chaconas and Brendan Cavender were hired by the court-appointed trustee to complete the sale of the properties.
Cavender said Colliers is most interested in selling the properties as a package, but would also consider smaller groups of homes or individual parcels.
"We are open to different options," he said, adding properties in different areas are good for different uses. "Those close to campus would be good for (a developer who) believes in Ypsilanti and has a good outlook for the city. There are also single-family homes where someone would want to live, like on South Summit, which are beautiful houses but need to be fixed up."
All back taxes owed on the property are included as part of the sale, Cavender said, and the individual unit price is the fair market value. Those values range from $15,000 each for two homes on Buick Street in Ypsilanti Township to $200,000 for a 12,500-square-foot apartment building on Washtenaw Avenue.
Tom Perkins | For AnnArbor.com
Colliers inspected each property to determine what a fair price would be, given the state of disrepair, Cavendar said.
Among the Ypsilanti properties are: 118 Ballard Street, 424 Ballard, 125 College Place, 130 College Place, 107 E. Cross Street, 302 E. Cross, 5 Driscoll Court, 3 Driscoll Court, 422 N. Hamilton Street, 220 N. Lincoln Street, 707 Pearl Street, 414 Perrin Street, 50 S. Summit Street, 46 S. Summit, 116 N. Summit, 43 S. Summit, 49 S. Summit, 11 S. Summit, 413 Washtenaw Ave., 313 Washtenaw and 315 Washtenaw.
The Ypsilanti Township homes include: 850 Allen Ave., 1145 Buick Street, 1133 Buick, 1144 Buick, 1766 Eileen Street, 1536 Foley Ave., 649 Oswego Ave., 661 Oswego and 1117 Holmes Road.
Court documents show Kircher is involved in numerous lawsuits, one of which involves a dispute over the $3.5 million Eastern Highlands complex on LeForge Road in Ypsilanti Township. Cavender said Eastern Highlands isn't listed among those properties for sale and he isn't sure what will happen with it.
Tom Perkins | For AnnArbor.com
Ypsilanti Township is aggressively dealing with blighted properties and has already successfully received court orders for demolition of several Kircher properties.
Ypsilanti Township Attorney Doug Winters said building department officials have been inspecting Kircher's houses throughout the week to determine what must be done to bring them up to code.
He said anyone who is considering buying a Kircher property will be made aware of the code violations.
Winters said anyone who buys the properties will have to bring them up to code. "We're going to deal with these properties one way or another,'' he said. "If we find someone who can do that, great. But we're not going to have a situation where we go from one slumlord to another."