Posted on
Mon, Feb 27, 2012 : 5:05 p.m.
Jimmy John's pulls sprouts from menu following E. coli contamination
By Cindy Heflin
Bad news for sprout lovers: The sandwich restaurant chain Jimmy John's is no longer serving them in restaurants following an outbreak of E. coli-related illness.
Liana Perez, an assistant manager at the Jimmy John's on South University Avenue in Ann Arbor, said the restaurant is no longer serving sprouts. She said it's because of the E. coli outbreak and an earlier recall of sprouts.
Mary Trader, a spokeswoman for Jimmy John's, would not comment about the sprout suspension, but she referred a reporter to the chain's Facebook page, where sprout fans have posted plaintive messages about missing sprouts.
Jimmy John's has posted replies, such as "I'm workin on something new! Don't be sad," to some of the comments.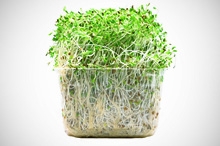 FoodSafety.gov
Friday, the Michigan Department of Community Health said the state had two confirmed E. coli cases and five suspect cases. One of those suspect cases was from Washtenaw County.
Three others were from Oakland County, the Oakland Press reported. All three had eaten raw sprouts at Jimmy John's, epidemiologist Shane Bies told the newspaper.
The two confirmed Michigan cases have the same genetic fingerprint as cases reported earlier this month in a CDC-led investigation in other states that was linked to raw clover sprouts consumption at Jimmy John's restaurants, the department said.
Sprout seeds can become contaminated with E. coli bacteria and are very difficult to decontaminate, said Laura Bauman, epidemiologist with the Washtenaw County Health Department. They're grown in a warm, moist environment that is an excellent breeding ground for bacteria.
That's why Bauman eschews sprouts when eating at sandwich shops. "I go to these places, but I don't get the sandwiches with sprouts," she said.
Illness caused by E. coli can include symptoms of acute diarrhea, especially, bloody diarrhea, and abdominal cramps with little or no fever. The illness usually lasts one week. In some people, especially young children, the elderly, or those who are immunocompromised, a more severe illness or even death, is possible.