Posted on
Fri, Jul 13, 2012 : 12:09 p.m.
John Dingell's chief of staff says congressman's views on same-sex marriage have evolved
By Ryan J. Stanton
Much like President Barack Obama, U.S. Rep. John Dingell's position on same-sex marriage has been evolving, says the congressman's top staffer.
"Like the rest of America, Congressman Dingell's views on this issue have evolved, in large part because he and Debbie have friends and neighbors who are in committed and loving relationships," said Katie Murtha, Dingell's chief of staff.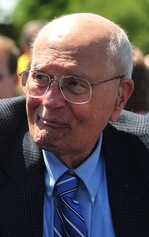 Murtha responded to AnnArbor.com via email after
Dingell's political opponent raised questions Thursday
about why he has been so silent about changing his mind on same-sex marriage.
Dingell, D-Dearborn, recently joined as a co-sponsor of the Respect for Marriage Act, which would repeal provisions of the Defense of Marriage Act, but he didn't publicly announce his position change.
DOMA, which defines marriage as the legal union of one man and one woman, was previously supported by Dingell and signed into law by President Bill Clinton in 1996. The Respect for Marriage Act would federally recognize the validity of same-sex marriages.
"On June 1, about six weeks ago, the congressman decided to co-sponsor legislation to repeal the Defense of Marriage Act because this legislation returns power to the states without forcing religious institutions to do anything," Murtha said. "Congressman Dingell cares about this issue and wants to see it move forward, which is why he is focused on the policy, not the politics."
Daniel Marcin, a 25-year-old Ann Arbor resident and University of Michigan Ph.D. candidate in economics, is challenging Dingell for his seat in the Aug. 7 primary.
Marcin, who has pressed Dingell on the same-sex marriage issue for weeks, said on Thursday he still questioned Dingell's silence on it.
"Mr. Dingell added his co-sponsorship completely silently," he said. "There was no press release, no photo, no news story, and not even a tweet. John Dingell can't even cut a ribbon without giving a speech and posting photos. So why did he change his position on an issue of extreme importance to the people of the 12th District?"
Ryan J. Stanton covers government and politics for AnnArbor.com. Reach him at ryanstanton@annarbor.com or 734-623-2529. You also can follow him on Twitter or subscribe to AnnArbor.com's email newsletters.