Posted on
Thu, Mar 29, 2012 : 4:31 p.m.
Judge rules no excessive force used by police in doctor's detainment on University of Michigan campus
By Ryan J. Stanton
U.S. District Judge Lawrence Zatkoff on Thursday dismissed a federal civil rights lawsuit stemming from Dr. Catherine Wilkerson's detainment on the University of Michigan campus more than five years ago, finding no excessive force was used by police.
Wilkerson was among a group of protesters on Nov. 30, 2006 that came to heckle former Reagan and Bush security adviser Ray Tanter during a speech at the Michigan League.
Wilkerson, who was forcefully removed by police and later claimed she was hurt, filed a lawsuit against an Ann Arbor police officer, three U-M police officers and Huron Valley Ambulance.
Ryan J. Stanton | AnnArbor.com
At the time of Wilkerson's detainment, frequent Ann Arbor protestor
Blaine Coleman
was being treated by emergency medical personnel after being removed from the event.
An HVA attendant asked an Ann Arbor police officer to remove Wilkerson, a medical doctor, from the scene because she was allegedly interfering with Coleman's treatment. Officer Kevin Warner led Wilkerson away and then eventually released her.
"Here, the undisputed evidence is that Warner grabbed plaintiff's wrists and put them behind her back, then marched her out of the area where the Coleman incident was taking place and into a stairwell," the judge wrote in his opinion on Thursday. "The evidence is also undisputed that once Warner got plaintiff in the stairwell, he released her wrists, he did not handcuff plaintiff, and he did not use any physical force against plaintiff thereafter."
A federal lawsuit was filed on Wilkerson's behalf by the Constitutional Litigation Associates of Detroit on Nov. 20, 2009, claiming she was the victim of excessive force and unlawful detention and that her civil rights were violated. The lawsuit made further claims of conspiracy, assault and battery, false imprisonment and malicious prosecution.
Judge Zatkoff finally issued a 42-page opinion on Thursday that dismissed all of the claims brought by Wilkerson.
The judge found that Warner's detention of Wilkerson was justified, and that the officer not only had reasonable suspicion that criminal activity was afoot, but he had probable cause to believe that Wilkerson was engaged in criminal activity.
More specifically, the judge found Warner, still an Ann Arbor police officer, had reason to believe Wilkerson was interfering with the ability of HVA to administer care to Coleman.
Hugh "Buck" Davis, an attorney for Wilkerson, called the judge a "jack-booted thug" on Thursday and vowed to appeal the ruling.
"I had warned Catherine that this judge was the most anti-civil rights judge on the federal bench in the Eastern District of Michigan," Davis said. "I think this is the third or fourth case that he has dismissed and I've appealed every one of them and won every appeal."
Davis said he'll be filing an appeal in the U.S. Court of Appeals in Cincinnati within 30 days and he expects to win, especially on the excessive force claim.
"I am surprised on the excessive force claim," he said. "She already had a bad shoulder and (the officer) twisted it and she kept telling him, 'Stop, you're hurting me.' Plus she wasn't fighting him. If you have an unresisting prisoner, you're not supposed to use any force."
Davis said his client's arm hurt for a number of months afterward. She treated it on her own, and there's some residual pain, he said, but it wasn't broken.
"But there's just no need for the use of any force," he said.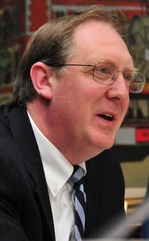 City Attorney
Stephen Postema
said the judge was right to rule that there was no factual or legal basis for the "hodgepodge of claims" filed by Wilkerson.
"In the end, the police officers and medical personnel involved were sued simply for doing their jobs," Postema said in a statement, noting the city will always vigorously defend its police officers against such claims. "Despite the plaintiff's demands for large monetary amounts from the individual police officers and others, the court appropriately held that plaintiff was entitled to precisely nothing as her claims were specious."
The judge ruled that Wilkerson was not engaged in protected constitutional activity when she protested the medical measures and techniques being utilized by HVA on Coleman.
Because she did not comply with verbal commands by police to remove herself from the treatment area, the judge ruled it was not unreasonable for Warner to use limited physical means to escort her away from the scene.
"As such, the court finds that the manner in which the detention was conducted was 'reasonably related to the basis for the original intrusion,' " the ruling states.
Ryan J. Stanton covers government and politics for AnnArbor.com. Reach him at ryanstanton@annarbor.com or 734-623-2529. You also can follow him on Twitter or subscribe to AnnArbor.com's email newsletters.