Posted on
Thu, Mar 8, 2012 : 9:20 a.m.
Julea Ward case: Bill would block religious discrimination against students
By Cindy Heflin
Michigan lawmakers Wednesday heard testimony on a bill that would protect students from discrimination because of their religious beliefs, Michigan Radio reported.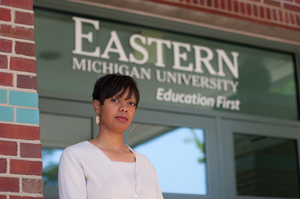 The bill stems from the case of
Julea Ward
, an
Eastern Michigan University
graduate student who was kicked out of a counseling program because she refused to counsel a gay student about a relationship. She said doing so conflicted with her Christian religious beliefs. She instead referred the student to another counselor.
Ward sued EMU in 2009, but lost in the lower courts. Ward and her attorneys, the Alliance Defense Fund, a legal organization that works to uphold the rights of religious college students and faculty, appealed to the U.S. Court of Appeals for the Sixth District.
A three-judge panel of the court said a jury could conclude the university used a code of ethics it adheres to "as a pretext for punishing Ward's religious views and speech" and sent the case back to a lower court. EMU denies any bias.
Representatives of psychological and social work organization warned lawmakers the bill could jeopardize accreditation for universities' counseling programs.
The legislation is before the House education committee.