Posted on
Mon, Dec 31, 2012 : 5:59 a.m.
Humane Society program works with juvenile detention center to stop animal cruelty and help troubled youth
By Erica Hobbs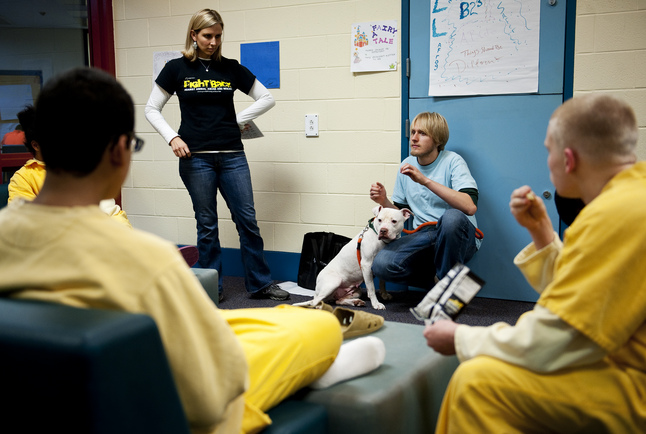 Daniel Brenner I AnnArbor.com
Karen Patterson holds up a picture of a dirty, overcrowded kennel. In front of her, six teenagers clad in gray jumpsuits watch intently while Keyla, a 7-year-old pit bull terrier mix, lounges lazily on the floor, petted by her companions.
Patterson, a Humane Educator with the Humane Society of Huron Valley, is at her weekly visit to the Washtenaw County Juvenile Detention Center where she and partner Alex Ball are giving a talk on animal cruelty.
The lesson is part of the Humane Society's new outreach program to educate at-risk youth about the proper care of animals to help stop the cycle of animal cruelty. The organization, which serves Washtenaw County, said it investigates about 500 animal cruelty reports every year.
The program began in early October with the help of a $44,000 grant from the James A. and Faith Knight Foundation, which provided funds for extra staffing.
"One of the things that we wanted to do was start reaching out to at-risk youth and getting into places where they might not be getting that role-modeling in their homes," Patterson said. "[We wanted to] start showing them the positive sides of animals, the positive ways to deal with animals and how their choices with animals can affect the animals but also each other and the environment, and how it's all kind of combined."
Since its beginning, Patterson and Ball have spent every Sunday afternoon at the facility teaching the youth how to care for pets, sharing books on animals and allowing them to pet and interact with one of their dogs. While Sunday featured the second talk of a unit on dog cruelty, previous weeks' topics have covered pet safety, animal communication, caring for pets at home and showing respect and compassion for animals.
In addition to preventing animal cruelty, the Humane Society also hopes the dogs will benefit the troubled youth.
"Our goals are to educate, and we want also to rehabilitate too," Ball said. "We want to show we have animals here that are always compassionate. They don't judge, they don't see jumpsuits, and they want to be loved. Our dogs can do that for them and they can do that for our dogs."
Youth Counselor Kevin Lockhart, who works at the facility, said the youth love it.
"It's a nice treat for them," he said. "They all perk up when they come in and it's very good for them."
Patterson said the response with the youths has been phenomenal.
"I feel like they're getting more comfortable with us so they're getting more open with us and willing to share more and ask harder questions," she said. "We've definitely seen a lot of growth in just what they know and what they're recalling from what we're talking about. Even the way they interact with the animals we bring has changed a lot."
The teens said they have been learning a lot from the program and enjoy interacting with the dogs, especially the larger breeds.
"It just gives you that warm, cuddly, comforting feeling that you can't get from a human," one 14-year-old girl said. "Dogs just have it, they just have that demeanor about them. It helps."