Posted on
Sun, Mar 18, 2012 : 2:26 p.m.
Kayaker rescued from Huron River after capsizing, clinging to tree
By Sven Gustafson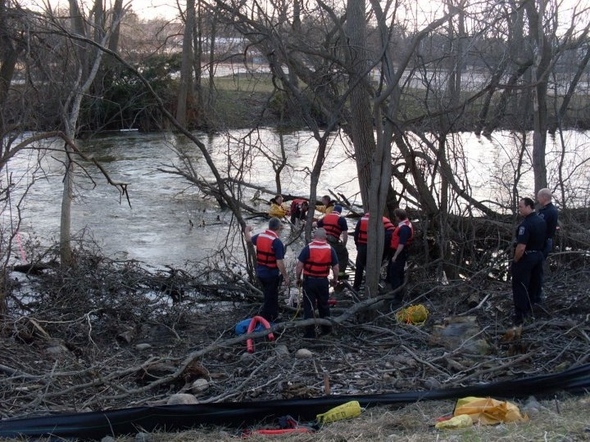 Photo courtesy of Deb Mozurkewich.
A 33 year-old Northville man's float down the Huron River turned frightening Saturday after his kayak capsized and he clung to a fallen tree in the icy water until being rescued.
A caller notified the Ann Arbor Fire Department at 5:30 p.m. of the incident at 1055 Longshore, near Argo Park and the Argo dam, said Battalion Chief Robert Vogel, who was not part of the shift that responded to the incident.
The man clung to the branches until fire and police personnel arrived and extended a ladder to bring him to shore. He was later transferred to the University of Michigan Health System for treatment of possible hypothermia.
Northfield Township Supervisor Deb Mozurkewich posted the photo of the rescue operation, above, to AnnArbor.com's Facebook page Saturday. She and firefighters said the man became entangled in the tree after the kayak he was paddling flipped.
"When I arrived he was yelling 'help, I can't hang on, I'm going down' his fellow kayaker and a passerby Good Samaratian (sic) helped save his life. It was the most chilling scene I've ever come across. Ann Arbor's Finest Police and Fire departments were there in moments and he was brought to shore safely. He can thank a lot of folks for saving his life today."
• Contact freelancer Sven Gustafson at sventg123(at)gmail(dot)com, or follow him on Twitter.