Posted on
Sat, Feb 27, 2010 : 4:19 p.m.
Kiwanis Club of Ann Arbor, students and community members prepare 10,000 food packages to send to Haiti
By Erica Hobbs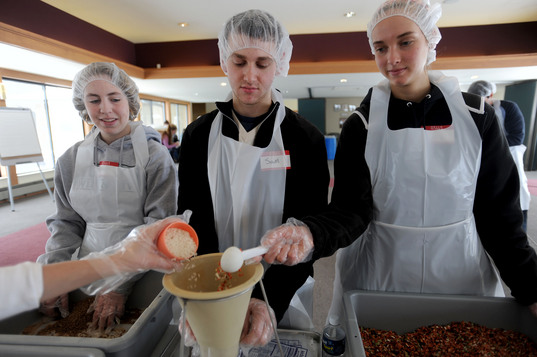 Angela J. Cesere | AnnArbor.com
It was a community effort Saturday morning during the
Kiwanis Club of Ann Arbor's
Kids Against Hunger
project to send food to Haiti.
More than 110 community volunteers, including members of the University of Michigan's Circle K and the Pioneer and Huron High School's Key Clubs, gathered at Westminster Presbyterian Church at 1500 Scio Church Road in Ann Arbor to scoop, measure and seal 10,000 packages of dried food.
"There's such a broad age range," Kiwanis member Kathy Barden - Perlberg said. "It's just awesome to watch this many people come together on a Saturday to give to other people."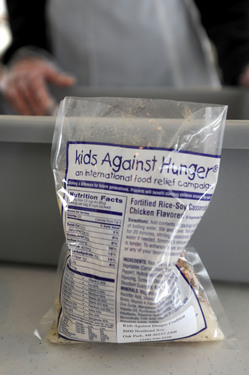 Donned in bouffant hair caps and plastic gloves, volunteers moved assembly-line style measuring scoops of rice, dehydrated vegetables, floured soy and chicken flavoring to create sealed packages of fortified rice-soy casserole. The dish, Kids Against Hunger says, is both nutritionally balanced and able to keep for long periods of time. Each package, they say, can serve six adult meals or 12 children's meals and takes only boiling water to prepare.
"Our motto is feeding children around the corner as well as around the world," Michael Burtwell, executive director of Kids Against Hunger's Coalition of Michigan said. "It's great to see the kids that always come out and support these kind of events."
Burtwell said different organizations throughout Washtenaw County sponsor Kids for Hunger projects three or four times a year.
Though Kids for Hunger generally benefits a combination of local food shelters as well as poor countries worldwide, the Kiwanis Club of Ann Arbor chose to send 100 percent of Saturday's food to benefit Haiti, which was struck by a 7.0-magnitude earthquake in January.
"We've always been first-responders in national disasters," Alan Dailey, the executive director of the Kiwanis Club's Michigan District said. "We do (Kids Against Hunger) simply because it was a well-organized, well-done project with an end result that we can see."
Volunteers, a mixture of Kids for Hunger veterans and first-timers, said they had fun.
Ann Arbor resident Vicki Klinger brought her 6-year-old daughter Anna to help, because she thought it was a good cause and something her daughter would enjoy.
"I want to do all sorts of things so I can give money to poor people," Anna said. "I would do it a million times (again)."
Alli Schaffner, a U-M senior and Circle K member, said the project was cool.
"Today's our first day of spring break and it puts things in perspective," she said. "It's cool to give back."
Erica Hobbs is a reporter for AnnArbor.com. Reach her at 734-623-2537 or via e-mail at ericahobbs@annarbor.com.