Posted on
Wed, Feb 24, 2010 : 6 p.m.
Lawsuit: University of Michigan closed session reportedly called to discuss NCAA probe illegal
By Juliana Keeping
University of Michigan says meeting was appropriate
"Thanks again and Go BLUE!", wrote University of Michigan alumnus Robert Davis, after requesting the minutes to a closed special session, reportedly called by the school's Board of Regents to discuss an NCAA probe into its football program.
In an equally polite response, he was told that that minutes to the 8 a.m. session on Feb. 3 didn't exist.
Davis sued the U-M Board of Regents in Washtenaw County Circuit Court on Feb. 18, alleging violations of the Michigan Open Meetings Act, the law that spells out circumstances under which public bodies can hold closed meetings.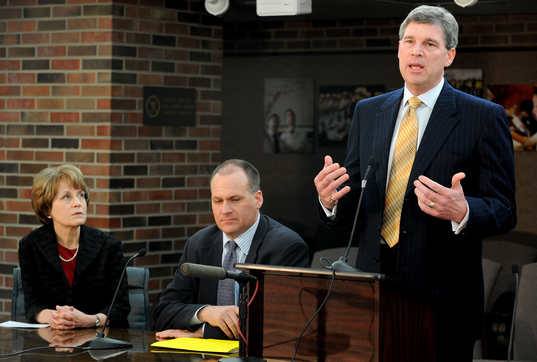 Angela J. Cesere | AnnArbor.com
This wasn't one of them, the suit says.
Reached Wednesday, Davis said that the notice of allegations announced Tuesday by U-M officials outlining five alleged major NCAA violations doesn't change the course he's taken.
"The regents revealing the NCAA probe does not stop the intent behind the lawsuit - to have them to reveal the minutes of the meeting and to ensure that those type of meetings do not happen again."
Davis, 30, is described in the lawsuit as a former law clerk intern to a Michigan Supreme Court justice and a Wayne County elected official. The Highland Park School Board member lives in Parma and works as a union staff representative, he said.
University of Michigan spokesman Rick Fitzgerald defended the closed session in question.
"We are confident the Board of Regents has been meeting appropriately," Fitzgerald wrote in an e-mail.
Davis said he has been "very successful" in winning open meetings cases against "a few" different municipalities in Wayne County, but wouldn't say which ones.
Subpoenas of top university officials are forthcoming, he said. Carl Marlinga, the former Macomb County Prosecutor who is currently running for State Senate, has recently joined his legal team, Davis said.
Juliana Keeping covers higher education for AnnArbor.com. Reach her at julianakeeping@annarbor.com or 734-623-2528. Follow Juliana Keeping on Twitter