Posted on
Wed, Jul 28, 2010 : 4:14 p.m.
Legislature approves 'Complete Streets' plan to improve transportation for pedestrians and bicyclists
By Ryan J. Stanton
The Michigan House and Senate today passed the "Complete Streets" legislation, a plan sponsored by state Reps. Pam Byrnes, D-Lyndon Township, and Jon Switalski, D-Warren.
The two lawmakers said the legislation is designed to ensure that future transportation plans statewide take into consideration the needs of all users, including pedestrians, bicyclists, seniors, people with disabilities and children.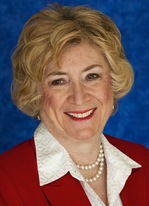 The plan is now set to be signed into law.
"I'm very pleased with the Senate's quick action on this legislation," Byrnes, chairwoman of the House Transportation Committee, said in a statement. "As with the cottage food legislation, I was able to work across the aisle and across the dome to deliver a meaningful change for Washtenaw County and for Michigan. This legislation is good for the environment, good for the economy and promotes healthier lifestyles for our residents."

Under the plan, the Michigan Department of Transportation will be required to consider all users of roads in all phases of road project planning and during construction. The plan also will encourage local units of government to consider Complete Streets principles when updating their master plans.
While Complete Streets accommodations may vary between communities, Byrnes said, they include sidewalks, bike lanes, special bus lanes, accessible transit stops, frequent crossing opportunities and accessible pedestrian signs. Complete Streets planning also is expected to increase the safety and availability of travel options for seniors, a need some say will increase as Baby Boomers age.
"Transportation planning is crucial to revitalizing our downtowns and creating the atmosphere to attract businesses, create jobs and keep our young people here in Michigan," Switalski said in a statement. "Providing people with safe alternative travel options will lead to healthier lifestyles and give residents more ways to reach the small businesses that drive our economy. This 'Complete Streets' legislation reflects the bipartisan effort it takes to build a brighter future for Michigan."
Ryan J. Stanton covers government and politics for AnnArbor.com. Reach him at ryanstanton@annarbor.com or 734-623-2529.