Posted on
Fri, Nov 20, 2009 : 12:58 p.m.
6 proposals: Ann Arbor leaders must decide between development and open space
By Ryan J. Stanton
Ann Arbor officials will have their pick between polar opposites - a new high-rise development or an urban park - when they decide the fate of the Library Lot downtown.
Six competing proposals have emerged in response to a request for proposals for a 1.2-acre city-owned lot in the heart of downtown.
Three of them are hotel-related. Another envisions a senior citizen apartment complex. And two propose urban park concepts.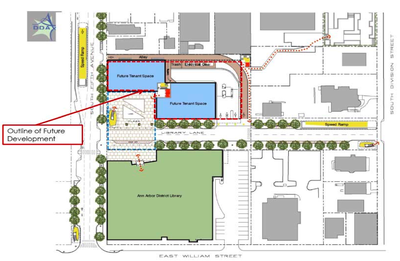 The City Council ultimately will decide what will go on top of the underground parking structure being built by the Downtown Development Authority at 319 S. Fifth Ave.
Dahlmann Apartments Ltd. of Ann Arbor is proposing a project called Ann Arbor Town Square. It would be an urban park with open space, an outdoor ice rink, water features and a pavilion with retail and dining. The one-story structure would measure 7,000 square feet.
Ann Arbor residents Alan Haber and Alice Ralph are proposing a similar idea, but with no physical structure. They're the leaders of a grassroots push for a project called the Ann Arbor Community Commons, which also calls for an urban park with open space.
At the opposite end of the spectrum, a group from White Plains, New York, called Valiant Partners LLC is proposing a project called Ann Arbor Town Plaza Hotel and Conference Center. It would be a mixed-use development with a 150-room hotel, 32,000-square-foot conference center, 12 condos and 5,000 square feet of restaurant and retail shops.
Closer to home, Jarratt Architecture of Ann Arbor is proposing a mixed-use development called "the Fifth a2." It would include an 84-room hotel with meeting rooms, 50 to 60 condo units, affordable housing, outdoor market and retail and restaurant space.
Acquest Realty Advisors Inc. of Bloomfield Hills is proposing a mixed-use project called "@ Hotel and Retail Center." It would include a 190-room hotel, 5,340 square feet of meeting spaces and 8,850 square feet of restaurant and retail.
Lastly, Beztak Land Co. of Farmington Hills is proposing a mixed-use development called All Seasons of Ann Arbor. It would include a 148-unit senior citizen apartment complex and 12,500 square feet of retail, restaurant and office space.
AnnArbor.com obtained a one-page summary today of the six proposals prepared by city staff. A Freedom of Information Act request for more information, including complete copies of the six proposals, is pending.
The city has formed an advisory committee that plans to meet Dec. 4 to review the proposals. A recommendation to the City Council is expected in January, with final approval of one of the projects by March 1.
The city also has formed a review committee of city staff to conduct a technical review of the proposals and assist throughout the process. The committee is evaluating each bid and is providing information to the advisory committee.
"We're beginning the review process and I think we're all excited to go through that process and see what the specifics of the proposals are," said Jayne Miller, the city's community services administrator. "Our hope is that one of them will come to fruition and we'll be able to move forward and do a development on the site."
The technical review committee includes:
Administrator Lead - Jayne Miller
Project Lead - Matt Kulhanek
Attorney's Office - Kevin McDonald
Planning and Development - Wendy Rampson
Systems Planning - Cresson Slotten
Project Management - Alison Heatley
Finance - Mike Pettigrew
Parks and Recreation - Jessica Black
DDA - Susan Pollay
The advisory committee includes:
Margie Teall - Council Member, Ward 4
Stephen Rapundalo - Council Member, Ward 2
Eric Mahler - Planning Commission
John Splitt - DDA
Sam Offen - Resident & PAC Member
Roger Fraser - City Administrator
Jayne Miller - City Staff
Matt Kulhanek - Manager, Ann Arbor Airport
Susan Pollay - DDA
Ryan J. Stanton covers government for AnnArbor.com. Reach him at ryanstanton@annarbor.com or 734-623-2529.