Posted on
Tue, Jul 20, 2010 : 9:10 p.m.
Washtenaw County Road Commission to be 'broke' by end of 2012, official says
By Juliana Keeping
Washtenaw County Road Commission officials painted a doomsday financial scenario today, saying a countywide millage is one option to solve the funding crunch and make needed repairs to roads and bridges.
"By the end of 2012, we will be broke," commissioner Fred Veigel said at today's semimonthly board meeting.
The road commission, operated by a three-member board and 140 employees, will spend $35.5 million this year.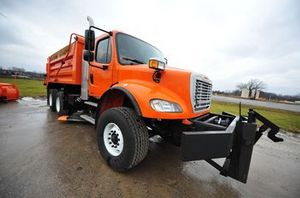 By 2013, the commission could find itself in a $7.5 million deficit, assuming state funding continues to fall by 2.5 percent a year, according to the road commission's head accountant.
While the financial future looks bleak, residents want their bridges fixed now.
About eight incensed Lima Township residents attended the board meeting and a discussion that followed it to complain about the bridge closures over Mill Creek.
The four closures are in a small area near Chelsea, including the South Dancer Road bridge between Liberty and Jerusalem roads, which has been closed for a year.
"We're not safe because the bridges are not done," Lima Township resident Ron Ruth said.
The commission closed bridges on South Lima Center and Liberty roads in May, while the Klinger Road bridge has been closed for four years to the ire of local farmers who use the remote one-mile stretch that cuts into their fields.
An unexpected event, like a fallen tree, could easily block the limited routes and trap residents in the area as they wait for a county crew to clear it, Ruth said.
But the bridges aren't safe to cross, said county highway engineer Roy Townsend, who gave a presentation showing pictures of cracks and erosion found during recent inspections on the 111 bridges under the commission's care.
The three-member panel kicked around ideas to generate cash today, including a countywide millage that could cost residents $100 per $100,000 of assessed property and generate $15 million to help maintain 1,650 miles of roads, as well as hundreds of bridges and enclosed drains.
Lima Township officials would need to come up with matching funds for their bridge projects, per state law, officials said. For instance, to fix the bridge over Mill Creek on Lima Center Road - the cheapest bridge project - the township would need to pay $75,000, and the commission would do the same for a total cost of $150,000.
If the state raised the per-gallon gas tax by one cent to 20 cents, the commission would receive $300,000 to $400,000 of that revenue per year. The gas tax has been raised by 4 cents since 1984, officials said.
American Recovery and Reinvestment Act money has helped the commission's bottom line - but not much, officials said. The biggest chunk of the commission's funding comes from the state, and those revenues are expected to continue declining.
Some in attendance today questioned the board's priorities, scoffing and groaning after the panel voted to purchase a new pickup truck and make equipment repairs, moves that cost $56,000.
Veigel voted against the measures, noting the road commission has more than 35 pickup trucks. "I'd rather spend it fixing that bridge," he said.
Countered commission chair David Rutledge, who is seeking the 54th District seat being vacated by Alma Wheeler Smith: "This is not a truck versus bridge repair issue."
How and when the bridges may be fixed isn't yet known. Officials said they have only a fraction of the cash they need to make bridge repairs, not to mention patch crumbling county roads.
Juliana Keeping is a reporter for AnnArbor.com. Reach her at julianakeeping@annarbor.com or 734-623-2528. Follow Juliana Keeping on Twitter