Posted on
Tue, Feb 28, 2012 : 5:43 p.m.
Little lost ferret: Ann Arbor woman hopes to find pet's owner
By Cindy Heflin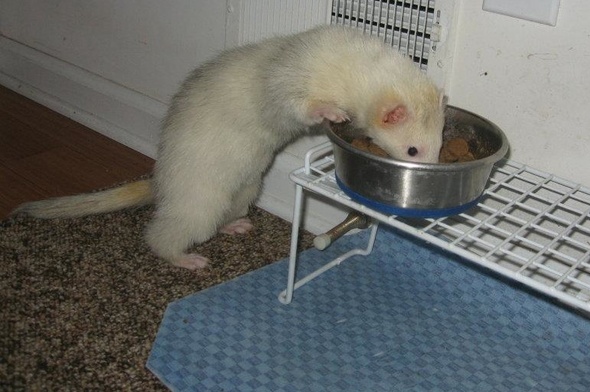 Photo courtesy of Claire Zepeda
When Claire Zepeda's dog started making a ruckus Friday night, she figured there was a raccoon or perhaps a skunk outside her door.
What she found instead was an inquisitive white ferret.
"I flipped on the light and here's this little guy with his paws against the window," she said.
Zepeda called a friend in Ohio who raises ferrets to find out what to feed it. She said it's obviously been someone's pet.
She's taking care of the little creature since Friday but hopes she'll be able to reunite the ferret she nicknamed Francis with her (she and her husband have deduced Francis is a girl) rightful owner soon.
Zepeda said she's been keeping Francis in a cage to protect her from her dog but thinks the ferret would be much happier if she could roam about.
She's posted fliers around her neighborhood in the area of Eisenhower Boulevard and Stone School Road hoping to find the ferret's owner. She also posted several images on her Facebook page. Zepeda hopes the owner will call her at 734-973-6665.
"She's a delightful thing," Zepeda said. "I just don't want to have to take her to the Humane Society."