Posted on
Wed, Jun 8, 2011 : 2:21 p.m.
Local developer offers advice to Ann Arbor DDA as officials consider future uses for downtown properties
By Ryan J. Stanton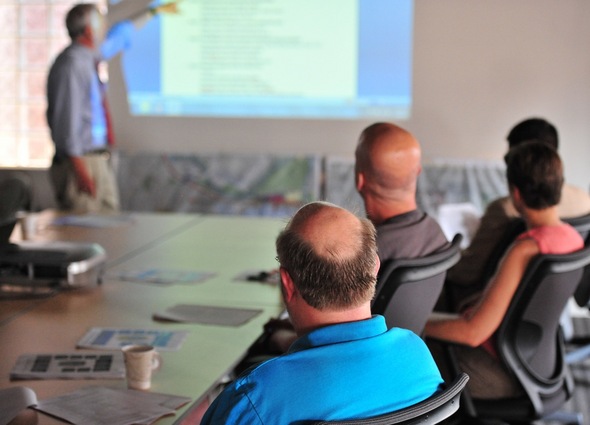 Ryan J. Stanton | AnnArbor.com
Local real estate developer
Peter Allen
laid out a vision for the future of
downtown Ann Arbor
today — not specifically what he thinks should be built, but how the city and the
Downtown Development Authority
might go about creating the vibrant setting they desire.
"To me, Rule 1 in great urban design is that you have to excite the sidewalk," Allen said during a 45-minute presentation to the DDA's Partnerships Committee. "And 'excite the sidewalk' means you have to have great interesting retail or perhaps nonprofit at the sidewalk."
Allen, who proposed that the DDA hire him as a consultant, talked at length about possibilities for the Library Block, an area bounded by Liberty, William, Fifth and Division. That includes the city-owned Library Lot property on Fifth Avenue where the City Council recently rejected a hotel and conference center proposal.
While downtown Ann Arbor is generally considered a lively place, with retail activity on State Street and Main Street, the Library Block is seen by many as a dead zone.
Allen said the block has a lot of potential, though. He thinks it's easily capable of welcoming 500,000 square feet of new development, and possibly as much as 1 million square feet — whether that's retail, office, residential or something else.
"We're talking about thousands of residential units potentially," he said. "We're talking about hundreds of thousands of square feet of office potentially. We're talking major new — perhaps nonprofit — anchors downtown. Maybe another school downtown."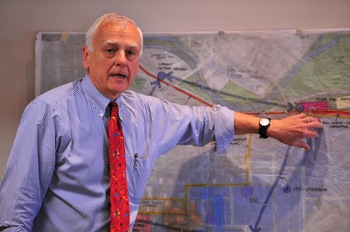 Ryan J. Stanton | AnnArbor.com
Allen added he'd love to see a boutique grocery store. He said if there were enough residential units and 24-7 activity, something along the lines of Plum Market or the Produce Station or Trader Joe's would be "very happy to be downtown."
"Certainly there's a lack of demand for new office, but there are some 100-square-foot office tenants out there looking around right now," he added.
The City Council recently directed the DDA to facilitate a master planning and implementation process for the future development of city-owned properties within a portion of the downtown. Today's meeting with Allen marked the first time DDA officials publicly discussed their next steps, which include considering uses and eventually issuing requests for proposals for four surface parking lots: the Library Lot, the Y Lot, the Palio Lot and the Kline's Lot.
A fifth city-owned property — the Fourth and William parking structure — also is included in the district the DDA will be studying.
"The challenge before this particular committee of the DDA is an opportunity actually," DDA Executive Director Susan Pollay said today.
"We asked for it and the council granted us an opportunity to take a step back and look at the RFP process for downtown properties," she said. "The city is one of the most, if not the most, significant property owners in downtown, and the RFP processes that have been followed to this point have not always led to successful outcomes."
Pollay said the DDA would like to see a reuse of the ground floor of the Fourth and William parking structure. She said there are opportunities to re-imagine how the structure could lend support to the community's transit vision given the upcoming redevelopment of the Blake Transit Center and the Ann Arbor Transportation Authority's plan to expand services — not to mention the proposed development of a train and bus station on Fuller Road.
Allen said the Library Block could be "the marquee space that people have to be a part of." But he said it's important to be mindful of relation to the rest of the city.
Allen said city officials should consider expanding the planning area to include one square mile, including downtown, the University of Michigan campus, the riverfront and the site of the proposed Fuller Road transit station. He considered those part of the "four corners" that must work together to achieve the future vision for the Library Block.
He also stressed the importance of design, density and diversity, and said he can't emphasize enough the role of great architecture.
"To me, as I drive down M-14 to Main Street coming into town and I look at the skyline, I see Tower Plaza and University Towers," he said. "To me, (what's developed on the Library Lot) ought to be the skyline identifier, and that means it's got to be more than 20 stories."
Allen said he's offering to work as a consultant to "help make the community plan come alive." He said he sees his team's value as being "sort of a cheerleader and master facilitator."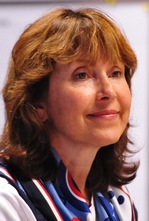 Committee members responded positively to Allen's presentation.
"I think this is great," said City Council Member Margie Teall, D-4th Ward, one of two council representatives on the committee. "It excites me about the possibilities."
Committee Co-Chairman Russ Collins said Allen's presentation was "literally overwhelming for citizen committee members trying to understand what the development realities are." But he said it's a good start to the larger community conversations that need to happen.
Allen acknowledged there are weaknesses — the financial markets are closed, and there's a current oversupply of office space in Ann Arbor. He also mentioned the University of Michigan's unwillingness to aggregate its meeting space into some sort of a conference center.
Allen said he still thinks there's room for more hotel space, though.
Allen pointed out the city's new underground parking garage on the Library Lot is taking shape and the adjacent Ann Arbor District Library is considering an expansion plan.
"The fact that the parking deck is there and people are clamoring for what you put on top of it gives you a certain deadline to deal with," he said. "The fact that the library wants to go to the public for a vote at the end of next year gives you a deadline that you've got to work with."
Another big issue, Allen said, is financing of public amenities. He also encouraged DDA officials to think about walkability and appeal to young professionals ages 25 to 30.
"The students when they get out of school today say, 'I want 1,000 nights — I want to go live in a great town for 1,000 nights. I want to work hard, I want to play hard, I want to get paid for it and I don't want to settle down,'" he said. "And that's why they go to Chicago and the coast and the Google effect was that they began to stay in Ann Arbor."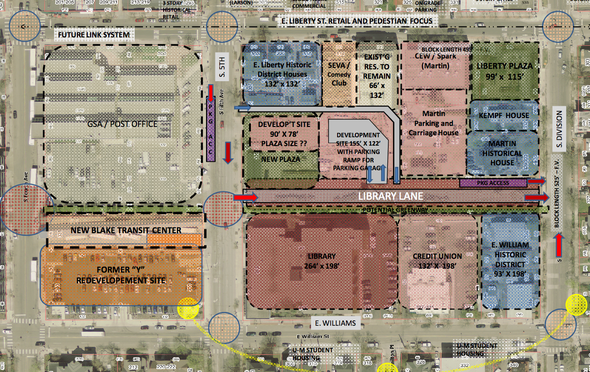 Ryan J. Stanton covers government and politics for AnnArbor.com. Reach him at ryanstanton@annarbor.com or 734-623-2529. You also can follow him on Twitter or subscribe to AnnArbor.com's e-mail newsletters.