Posted on
Sun, Jun 6, 2010 : 6:03 a.m.
Washtenaw County school districts see explosion in number of students attending other school districts
By David Jesse
The number of students who live in one Washtenaw County school district but attend a different traditional school district has grown by nearly 450 percent in the last eight years, Michigan Department of Education data shows.
In the fall of the 2009-10 school year, 2,910 of the 47,000 students in Washtenaw County's traditional school districts opted to switch districts through the schools of choice program. That's up from 655 students in the fall of the 2002-03 school year.
That increase outpaces the growth in the number of Washtenaw County students who are enrolled in a charter school. That number grew by 238 percent over the same time period.
The local rise also eclipses the schools of choice growth across the state, which was 111 percent during that eight-year span.
The movement showcases the increase in competition among traditional school districts for a shrinking pool of students, Washtenaw County education officials say.
"(Education) is becoming a market-driven enterprise," Washtenaw Intermediate School District Superintendent Bill Miller said. "And with more competition, combined with a decline in enrollments overall, school districts are having to create a brand for themselves. You have to market your identity."
A rising tide
On a recent morning, a group of students stood at a bus stop as an Ypsilanti school district bus rumbled down the street. Eight students climbed aboard, and the bus made two more quick stops to pick up five more students.
But it wasn't just another Ypsilanti district bus route.
The bus wasn't even in the Ypsilanti's district boundaries. It was driving through neighborhoods in the Willow Run school district, taking students who normally would go to Willow Run, but instead choose Ypsilanti through schools of choice.
State records show this school year, 2,910 students live in one of Washtenaw County's 10 traditional school districts but attend a different traditional school district. That's up about 700 students from the fall of 2008 and represents an increase of 2,255 students since 2002, the last year data is available.
Another 3,800 students live in a Washtenaw County traditional school district but attend a charter school. That's up by about 360 students from the fall of 2008, and up about 2,200 students since 2002.
RELATED CONTENT
To see what other school district students are going to instead of their home district, click on the PDF below.

"It's a profound social change taking place in our schools," said William Price, a professor of leadership and counseling in the school of education at Eastern Michigan University. "We are really moving away from the model of community school districts, connected to neighborhoods. We're moving to a marketplace where schooling is a commodity to be shopped."
Since state law changed in 1996 to allow students in one traditional school district to use schools of choice to go to another district, the number of local students taking advantage of the program has grown steadily, Miller said. The program allows a district to decide whether to accept students from neighboring districts, as well as deciding whether to place limits on the number of students accepted or specific grades to accept students in.
The district-to-district schools of choice shuffling is accompanied by student losses to charter schools and overall enrollment declines in Washtenaw County.
In the 2003-04 school year, the number of students in the county hit its peak at 52,621. It's slid every year since, to 51,543 in 2009-10, WISD records show.
Enrollment in private schools has remained relatively flat during the same time period, ranging from a high of 4,689 students in 2007-08 to a low of 3,678 in 2005-06. In the 2009-10 school year, 4,459 students who live in Washtenaw County are enrolled in private schools, WISD records show.
The bulk of the movement occurs on the east side of Washtenaw County, particularly in the Ypsilanti-area districts of Lincoln, Willow Run and Ypsilanti.
Each of those districts saw more than 500 students transfer to another traditional school district this school year. When charter schools are factored in, each of them has lost more than 1,400 students living inside their boundaries this school year.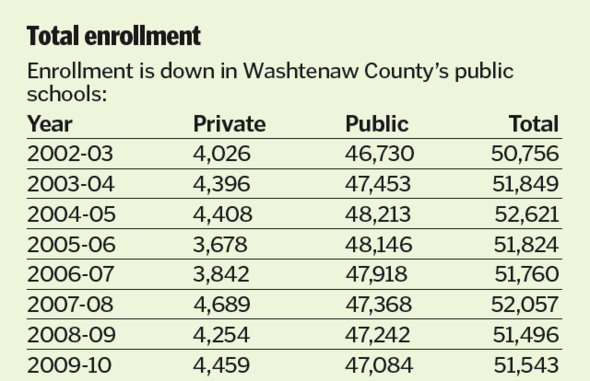 Why move?
When Annette Green's family bought a house in the West Willow neighborhood of Ypsilanti Township, they ended up in the Van Buren school district. Her oldest son started there, but didn't stay long.
"It just wasn't a good fit for him and us," she said. "People were just treating him different because they heard he was from West Willow."
So Green started looking at other local school districts. Her oldest son enrolled in the Ypsilanti school district, while her younger son spent some time at a local charter school before also enrolling in the Ypsilanti district.
"It's a big difference. There's a bigger mix of kids there," she said. "My youngest son goes to a middle school that's being closed down (East), but I'll keep him going to West. The teachers there just care so much about my kids."
RELATED CONTENT
To see the history of Washtenaw County schools with losing students to charter schools and other traditional school districts, click on the PDF below.

Green used to drive her children to school, but so many kids in the neighborhood now go to Ypsilanti that the district sends a bus through to pick them up.
Green's reasoning for switching school districts is commonly cited by parents, experts said. But academic quality or perceptions of academic quality often lead the list of reasons why parents send their children to a different district.
"The biggest increases (in movement) occurred between 2000 and 2005," said Sharif Shakrani, a professor of measurement and quantitative methods and co-director of the Education Policy Center at Michigan State University. "It was largely due to the labeling of schools through the (Adequate Yearly Progress). If I was a parent and found out my school was labeled as failing, I'd be looking for another school district."
Other reasons aren't tied to quality of education, Miller said.
"We're just mobile. Instead of having your friends in your neighborhood, it¹s not uncommon to drive around to friends from a variety of activities, versus those who just live by you," Miller said. "It part of the change in our social fabric."
Impact on the education system
The movement has impacted districts across the state ­ financially and in other ways, experts said.
It's led to competition for students because each student is accompanied by a per-pupil state aid grant, making students a valuable commodity as state aid shrinks and districts struggle with budget deficits.

"This is a business," Shakrani said.
Districts are spending more on advertising in an attempt to lure students to their districts. For example, the Lincoln school district paid $25,000 to be featured on a television infomercial about the "Best Schools in Michigan."
"School districts have to create a brand," Miller said. "You have to market your identity. You have to find that something that sets your school apart.
"What are your points of pride? How do you communicate that?"
Ann Arbor wasn't a schools of choice district until this spring, when it began accepting applications for several grades. This school year, the district expects to spend about $55,000 on advertising online, in print, and in specialty publications like directories and sports programs, district spokeswoman Liz Margolis said.
The Ypsilanti district has been aggressive in its advertising campaigns, including running ads on billboards inside the Ann Arbor school district boundaries in past years. The district is scheduled to spend $26,000 on advertising this year.
"Our promotion is two-fold, to retain and attract," said district spokeswoman Emma Jackson. "Some promotions, specifically for Ypsilanti New Tech High School, is tailored to attract students that are currently not enrolled in our district. We have had great success enrolling students who are attending charter schools that only go through eighth grade. Our district newsletter, mailed to parts of (zip code) 48197-98, is geared toward communicating to our families, to reach our stakeholders to inform them of what is taking place in our district and to appeal to new families. We also place ads to promote our open houses and high school fair, which targets both current and new students."
Another effect of the student movement is changing demographics in districts.
That's because those with money are able to flee many poorer performing districts, Shakrani said.
"Why should we condemn the poor kids to a failing school? To me, that's economic discrimination," Shakrani said.
Transportation often influences a student's ability to switch districts since most schools of choice districts don't provide transportation outside their boundaries.
State statistics show the percentage of students classified as poor is increasing in local school districts that have the largest numbers of students leaving for other traditional school districts or charter schools. But it's unclear from the data how much of the increase in poverty rates is connected to students with money leaving and how much is due to the economy.
The future
The schools of choice program appears to be here to stay, experts and school officials said.
"You're not going to go back to forcing kids to go to a specific district," Shakrani said.
Miller agreed and said he expects to see more movement, particularly at the high school level.
RELATED CONTENT

To see where charter schools are getting their student body from, click on the PDF below.

Miller cites a number of specialty high schools opening in various districts and said the future could include one district with a technology-focused high school, another with a medical-focused high school and a third with a business-based high school. In that example, students would be able to choose among districts based on what high school they wanted to attend.
Many Washtenaw County school officials said schools of choice could eventually force consolidation among districts as some lose large amounts of students.
Ann Arbor school board Secretary Glenn Nelson said he¹d prefer a "more managed consolidation and connectivity."
Locally, more districts are electing to participate in schools of choice and are opening up more spots as they look for ways to pull in additional revenue. Ann Arbor was the latest district to opt into schools of choice, opening seats in kindergarten, first and sixth grades for next year.
"The intent of the (law) was to let parents have choice," Shakrani said.
"It's done that. The challenge is now for parents to make good decisions and
find good information to make their decisions on."
David Jesse covers K-12 education for AnnArbor.com. He can be reached at
davidjesse@annarbor.com or at 734-623-2534.